Water Damage in Central Mississippi
Weather Alert: If you are experiencing tornado damage or severe weather, call us today for emergency assistance!
911 Restoration of Central Mississippi
Dealing with water damage in Mississippi? The water damage restoration experts at 911 Restoration of Central Mississippi provide around-the-clock protection against water damage from floods. They are available 24/7/365 and will respond to any disaster in 45 minutes or less. Call us at (601) 501-6119 and allow us to offer you a free visual inspection.

They have years of experience with water damage, working on countless properties. As a result, you can rest assured that our specialists in Jackson will get the job done right.
Water damage can crop up at the most unexpected times, but our water damage restoration team in Jackson has all the tools and resources necessary to take on even the most advanced floods, leaks, and pipe bursts.
At 911 Restoration of Central Mississippi, we offer a Fresh Start with our comprehensive selection of property damage restoration services, including but not limited to:
Remediation of all water damage
Black water cleanup
Fungi and mold infestation decontamination
Mildew deodorization
Water extraction and drying
Toilet overflow sanitization
Mold spore testing services
Cleanup of tar and ash residue
Smoke stain cleanup and odor removal
Overall comprehensive disaster restoration
Whether you're a Central Mississippi homeowner or business owner, 911 Restoration of Central Mississippi is your Fresh Start! We'll communicate with you throughout the entire process, help answer questions related to insurance, and restore your property to its pre-damaged condition. One of our IICRC-certified teams is dispatched within 45 minutes of your call! Contact us today, and one of our friendly representatives will assist you in finding the nearest Central Mississippi location.
Water Damage Restoration
Our entire water damage team is certified by the international non-profit known as the Institute of Inspection, Cleaning, and Restoration Certification.
At 911 Restoration, we pride ourselves on being able to restore your home in the event of numerous types of damage. We know how to utilize an array of techniques to perform a water restoration job that prevents mold and other bothersome effects.
We use wet vacuums to remove water from crawlspaces, basements, and wherever else it may pool to ensure faster dry times. Moreover, we use dehumidifiers and blowers to allow air to circulate out, which aids a great deal in curbing mold growth. Furthermore, it is also important to clear out the dark corners of the home to prevent structural damage. Call us at (601) 501-6119 and see how we can help.
Service area map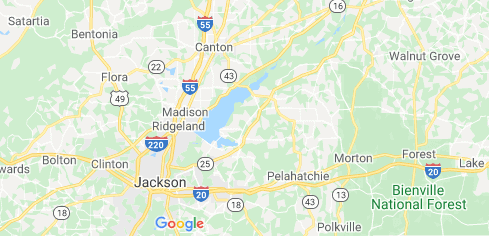 Sanitization Services & Disinfection Solutions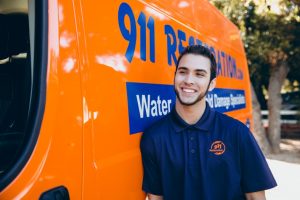 The spread of the coronavirus has reached pandemic status worldwide.  To move forward from this, we all need to do our part. A part of the solution is to ensure we all maintain our personal hygiene.
Property owners are able to contribute further by making sure their buildings remain clean every single day. This protects the people that come through each and every day. For this reason, 911 Restoration of Central Mississippi is prepared to provide sanitization services as well as various disinfection solutions for both residential and commercial properties. Each of our  IICRC- certified technicians maintains their training to ensure full compliance with all current CDC and EPA protocols to provide optimal results with our sanitization services. With a combined effort, this problem will pass us by. In the meantime, count on us to deliver a peace of mind you can trust.
Flooded Basement
Winter has arrived, which means disasters are more likely to occur on your property. Dropping temperatures can potentially cause frozen pipes in your plumbing. These elements slow the flow of water, which may eventually lead to pipe bursts. This can start a chain of water damage disasters.
One preventative measure we give our customers to stay safe is to keep their homes or business heated during the winter months to avoid potential frozen pipes and pipe bursts. However, if you're in need of immediate help, call our 911 water damage restoration experts techs in Jackson today at (601) 501-6119.
Sewage Backup Cleanup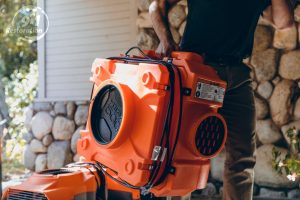 Raw sewage is considered a Category 3 hazard, as it comes with a slew of health concerns due in part to the number of microbes it fosters.
Sewage can leave behind stains and odors if not remediated correctly. Most of the time, however, the result is that there needs to be a complete replacement.
You deserve a restoration company that you can trust with their assessment.
911 Restoration of Central Mississippi is capable of sanitizing your space so that it is pristine. You deserve to live in your home with as much confidence as possible, so call our emergency sewage cleanup pros in Jackson today.
Mold Removal and Remediation
The most common effect of most of these disasters is that they involve a lot of moisture. One consequence of moisture is that it cultivates mold growth.
Mold causes discoloration, headaches, awful smells, and structural damage. Our decontamination process involves precision techniques to keep it from spreading.
First, we line the area with antibacterial plastic, which keeps the spores contained. Then we start to filter the air with a combo of HEPA filters and HVAC systems. This cleans the air and removes any standing spores in the air.
Finally, we remediate the underlying causes of mold infestation. This includes drying existing moisture and patching up any pipe or roof leak that allowed moisture to start. Our certified mold technicians can give you the Fresh Start you deserve. It doesn't matter if you're dealing with water damage in Canton, mold remediation, or a disaster in general in any surrounding city, 911 Restoration can get to you within 45 minutes.  So, call our mold removal technicians in Jackson today at (601) 501-6119.
Fire and Smoke Restoration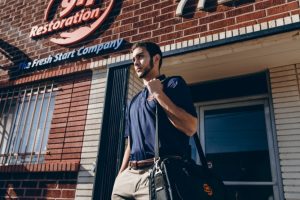 Fire restoration Jackson utilizes a blend of styles that range from water remediation to deodorization.
Ash and soot are carried throughout the air by smoke, and they can cover places in your home that were not even touched by fire.
Sometimes your property might be damaged by secondary effects from a fire in your neighborhood. Debris, ash, and soot are all elements created by fire that can cause smoke damage to your property. Additionally, that particular smoke may find its way inside your vents, damaging your property and eventually being absorbed by your lungs.
The remediation efforts we undergo aim to stop further deterioration of your property and to make sure we restore your house or business into a healthy, livable environment. Our fire damage restoration team in Jackson specializes in fire and smoke damage. Don't wait another minute call 911 Restoration of Central Mississippi for a Fresh Start today. We'll be at your property in 45 minutes or less!
Disaster Restoration
When it comes to taking care of the effects produced by a disaster of any sort, the professionals at disaster restoration of Central Mississippi are here to help at all hours of the day and night for any kind of trouble that befalls your business or home.
Taking on the challenges presented by a hurricane, flood, or severe storm, our professionals in Jackson have the know-how and skills to handle any disaster that strikes your home or business.
We'll take care of your property so that it can go back to taking care of you. Call us at (601) 501-6119 and see how we can help.
Commercial Restoration
In addition to residential damage restoration, the experts at 911 Restoration of Central Mississippi also provide services in commercial restoration, fire damage restoration, and mold removal in the Jackson area.
We understand that time means money. When disaster strikes, you need to get your business back up and running as soon as possible. Because of this, our team will arrive at your property within 45 minutes of your call, 24/7/365.
Whether you're dealing with water damage in  Madison, Jackson, Brandon, Ridgeland, or any other surrounding area in Mississippi, 911 Restoration has you covered. We are IICRC-certified, so contact our water damage professionals in Jackson today!
Put your business in good hands after a sewage backup, fire, or mold outbreak. We'll work diligently to get you and your business back on your feet in Jackson, Madison, and the surrounding areas. Call now for same-day property restoration.
Serving the communities of Benton ,Bolton, Brandon, Brookhaven, Byram, Camden, Canton, Clinton, Crystal Springs, Edwards, Florence, Flowood, Gallman, Georgetown, Hazlehurst, Jackson, Learned, Pearl, Pelahatchie, Piney Woods, Pocahontas,Puckett, Raymond, Richland, Ridgeland, Sandhill, Sharon, Star, Terry, Utica, Vicksburg, Yazoo City, Youngton, Wesson, Whitfield and surrounding areas.