Sanitization Services in Central Mississippi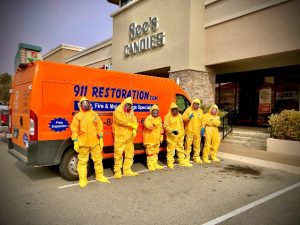 Thanks to the recent outbreak of coronavirus, we've all seen an increased focus on maintaining personal hygiene throughout Central Mississippi. While this is important, it can't come at the cost of forgetting the impact this pandemic has had on property owners. In truth, revenue has gone down thanks to reduced foot traffic. At this point, most have already been the subject of a government-mandated shutdown.
The good news is that property owners are still able to help the community of Central Mississippi in combating this infection. That's why it's critical that property owners continue to maintain their sanitization and disinfection protocol. By doing so, they can help keep anyone that comes back protected from coronavirus. Our professional technicians are available 24/7 and we also provide water damage restoration assistance and fire damage restoration Services.
What are the Risk Factors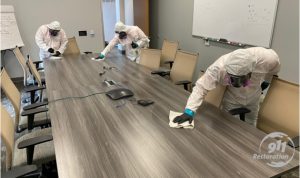 People that are elderly, pregnant, or have an otherwise compromised immune system are at significant risk for the most severe symptoms of coronavirus. These symptoms may include kidney failure, severe acute respiratory syndrome, and possibly death. Keep in mind that anyone can contract coronavirus, which is why it's important for everyone to do their part in maintaining their protection.
One thing about this virus is that it moves slowly in people once infected. As such, it takes more than two weeks for symptoms to show up. That's why the only effective solution is to hire the services of trained IICRC certified technicians to provide sanitization and disinfection services.
Our Sanitization Process
Our IICRC-certified technicians at 911 Restoration of Central Mississippi are standing by 24/7/365 to deliver professional commercial and residential sanitization services. We provide a comprehensive service that deals with your concerns regardless if it's a commercial property or if you need standard home sanitization and disinfection. 
We start the sanitization process using a decontaminating solution that is adjusted to neutralize most traces of pathogens and dirt on the premises. Once we have neutralized the affected area, we can proceed to our cleanup process to ensure nothing is left behind. 
Your health and well-being are of the utmost importance to our technicians. For this reason, we make sure to stay current on the latest CDC and EPA protocols. Our combination of local ownership and nationwide resources is what enables us to provide what you need while maintaining the care and understanding you deserve. With 911 Restoration, you can count on us to provide the Fresh Start you and everyone else in Central Mississippi needs. Call our experts at 601-501-6119.