Water Damage in Pearl
The humid, subtropical climate of Pearl makes it crucial for property owners to safeguard their homes and businesses from the high precipitation levels that affect the area all year round. 911 Restoration of Central Mississippi has decades of experience providing the region with high-quality, water damage restoration. Customers can expect to receive emergency leak repairs and flood cleanup in Pearl 24/7/365. Technicians guarantee to respond within 45 minutes of receiving your call, whether you need water damage restoration day or night. Property owners will receive a free visual inspection and estimate. This initial checkup will allow repair techs to determine the source and extent of the water damage quickly.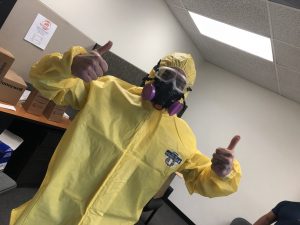 Time plays an essential role in administering a successful water cleanup job. The longer the moisture sits on the surfaces of your property, the more damage it will do.
911 Restoration of Central Mississippi always tries to get to the site of a water disaster quickly. The staff urges customers to call their office immediately upon discovering water damage.
Speedy water damage repairs can stop rotting wood, structural issues, mold infestations, and mildew. Preventing these subsequent issues are the reason why the water mitigation company is open at all hours.
In addition to our fast response time, 911 Restoration of Central Mississippi offers decades of experience to their customers. Not only do we work with highly trained technicians, but they are IICRC certified. The IICRC certification means that the repair techs have been recognized by the Institute of Inspection, Restoration, and Cleaning as having reached the highest standards in the restoration industry. 
It is the goal of the water damage restoration company to provide every member of the Pearl community with the help they need to recover from leak and flood damage fully. So, call 911 Restoration of Central Mississippi today, and we will show you how to turn water damage into a Fresh Start!
Emergency Response And Repair Services For Customers In Pearl
Although tropical storms and hurricanes can create house water leaks and overflowing plumbing systems, there are other ways water damage can invade your property.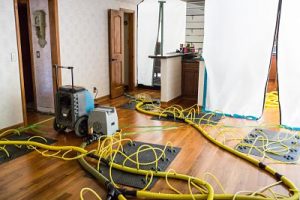 There are times when the property owner has caused home flooding issues or sewage overflows. If you find yourself dealing with these circumstances, you can trust 911 Restoration of Central Mississippi to assist you with the water cleanup. 
A customer in Pearl called the office after he had accidentally cut through the main water line of his home. By severing this pipe, he created extensive flood damage and completely saturated the carpet and drywall in the laundry room. 
After dispatching the repair techs, the service agent stayed with him on the phone to walk him through the process of shutting off the water valve. By doing this, he was able to immediately stop the flow of water and buy himself some time while he waited for the technicians.
Once repair techs got on the scene, they administered flood cleanup services. Once, the bulk of the water was removed, air movers and dehumidifiers were set up to extract any lingering moisture. The dry-out process is integral to a successful water damage restoration in Pearl because of the high moisture content in the air. Humidity breeds mold, so technicians aim to get properties as dry as possible to prevent an infestation.
With quick flood cleanup services and thorough drying procedures, technicians were able to recover the customer's property fully. If you find yourself in a similar situation, call 911 Restoration of Central Mississippi today!
Preventative Maintenance Can Stop Both Water Damage And Mold
Whether you own a home or a business, it is vital to take the appropriate steps to prevent water damage from invading the property. Without proper maintenance, you will find yourself dealing with leaks, floods, and mold.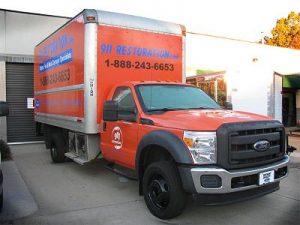 There are steps you can take to keep your property safe from both inclement weather and internal property issues that may lead to water damages.
Trim the trees around your property so that it is clear of any dead limbs and branches that may crack, snap off, and fall into your roof unexpectedly. This debris can cause structural damage that will allow the elements inside.
Make sure to check the hoses, rubber fittings, and connectors that link your water-based appliances up to the main water supply line to your home or business. These can experience wear and tear and eventually fail.
A professional restoration technician should inspect your plumbing system at least once every few years. Regular checkups will help prevent pipe bursts, sewage overflows, and septic tank failures.
Make sure the discharge from your gutters and downspouts are pointed away from your foundation by at least five feet. By having these runways in proper working order, water will not roll back into your property's foundation.
It is important to remember that even the most vigilant property owners may still need leak and flood cleanup services at one point or another. When you find yourself in need of water damage restoration, you can call 911 Restoration of Central Mississippi immediately!
Servicing the cities of Benton, Bolton, Brandon, Brookhaven, Byram, Camden, Canton, Clinton, Crystal Springs, Edwards, Flora, Florence, Flowood, Gallman, Georgetown, Hazlehurst, Jackson, Learned, Madison, Pearl, Pelahatchie, Piney Woods, Pocahontas, Puckett, Raymond, Richland, Ridgeland, Sandhill, Sharon, Star, Terry, Utica, Vicksburg, Yazoo City, Youngton, Wesson, Whitfield, and the surrounding areas.