Water Damage in Clinton
There are challenges presented in Clinton that can lead to leaking ceilings, house flooding issues, plumbing leak water damage, and many other structural issues. The humid, subtropical climate and severe weather patterns contribute to water damage and mold in homes and businesses in the area. 911 Restoration of Central Mississippi is available 24/7/365 to assist customers with water damage restoration at any time, day or night. The technicians guarantee to arrive at your property within 45 minutes of receiving your call. Property owners will be given a free visual inspection, allowing repair techs to determine the extent of the water damage and formulate an estimate. Customers can have complete confidence in our technicians because they are IICRC certified and have decades of leak and flood cleanup experience.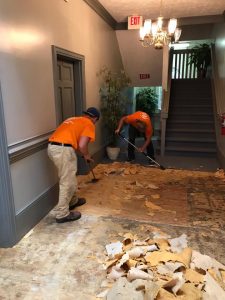 To provide their customers with the highest quality water damage restoration, the technicians are prepared to implement same-day services. Speedy water damage repairs allow us to limit damages to the structure and prevent any additional losses from subsequent issues like mold and wood rot.
There are additional challenges that can arise from a water damage situation, such as mold and mildew contamination. The best way to prevent these problems is to administer flood cleanup and drying services as quickly as possible.
In addition to being at the site of a water disaster quickly, 911 Restoration of Central Mississippi employs qualified professionals who are trained at conducting emergency leak and flooding repairs.
911 Restoration of Jackson is a locally owned and operated water mitigation company. Their technicians are familiar with the specific water-based problems that impact Clinton. These certified repair techs are skilled at administering water damage restoration services that deal with the particular needs of the community.
Our technicians are always ready for any project that our customers need help. Whether it be raw sewage spill cleanup, carpet water removal, or flood repair, customers can rely on us.
Call 911 Restoration of Central Mississippi as soon as you need leak or flood cleanup in Clinton. Our technicians will give you peace of mind as soon as they arrive on the scene.
Preventing Water Damage With Routine Maintenance
Not only is 911 Restoration of Central Mississippi trained in the most advanced ways to administer water damage restoration after a disaster has transpired, but their repair techs are also able to help people avoid these scenarios altogether.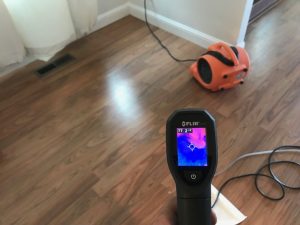 The only way to be sure that significant water damage isn't forming somewhere in your property that may not be visually accessible is to receive regular maintenance.
Our technicians will provide property owners with free visual inspections to ensure that they catch every potential instance of water damage at its earliest stages.
Property owners who are seeking out answers on what to do to prevent water damage from entering their home or business can always call 911 Restoration of Central Mississippi.
While technicians are inspecting your property, they will give you simple maintenance tips that property owners can do by themselves to help prevent leaks and flooding incidents.
Protect your home and your roof by trimming the trees that surround your property. These may have dead limbs or branches that can come down in the heavy wind and slice right through the layers of your roof and introduce water damage to the inside. Examine your gutters and downspouts once a year to make sure that there aren't any clogs. They can form barriers and induce overflows into your attic and roofing materials.
Take the time to check your sump pumps and make sure that they are in perfect working condition before the start of the rainy season. A sump pump failure can cause mass flooding in your home, so if they aren't working correctly, replace them to avoid water damage.
Make sure that the hoses and fittings on your water-connected appliances are functioning. These materials experience wear and tear through constant pressure. Replacing them is easy and cheap and can save you from vast amounts of water damage later on.
It is wise to have a plumbing professional come and take a look at your entire plumbing system every few years.  The restoration expert will be able to find anything out of the ordinary, which may result in water damage later on. So, whether you have questions about preventative maintenance or need water damage restoration in Clinton, call 911 Restoration of Central Mississippi for all the help you need today!
Helping Customers In Clinton Recover From Plumbing Leak Water Damage
911 Restoration of Central Mississippi is a nationwide restoration company that understands specifically how to handle house flooding issues and water leaks in Clinton.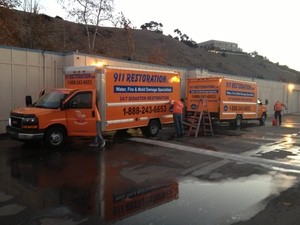 Our vast knowledge regarding water damage repairs has made us the go-to water mitigation service provider in the area.
This status as being the most trusted restoration company in Central Mississippi was bolstered when technicians got called out to make repairs for pipe bursts in a home.
The homeowner had no idea how the water pipe damage occurred, and she didn't know how to stop the water flow.
A service agent immediately dispatched pipe damage specialists to her home and then walked her through the process of turning off the main water valve.
Once technicians arrived, they began the flood cleanup process. They extracted the standing water, removed the soaked drywall, and set up air movers and dehumidifiers. The drying process is just as necessary as the water extraction process. It is crucial to remove every trace of moisture to prevent mold infestations and future instances of rotting wood.
By administering these thorough restoration procedures, technicians were able to repair the customer's home entirely. Furthermore, their comprehensive drying services guaranteed that it would pass the mold clearance test.
If your home has been affected by a pipe burst or any other form of water damage, call 911 Restoration of Central Mississippi today! Our technicians will make sure you receive the Fresh Start you deserve.
Servicing the cities of Benton, Bolton, Brandon, Brookhaven, Byram, Camden, Canton, Clinton, Crystal Springs, Edwards, Flora, Florence, Flowood, Gallman, Georgetown, Hazlehurst, Jackson, Learned, Madison, Pearl, Pelahatchie, Piney Woods, Pocahontas, Puckett, Raymond, Richland, Ridgeland, Sandhill, Sharon, Star, Terry, Utica, Vicksburg, Yazoo City, Youngton, Wesson, Whitfield, and the surrounding areas.