Sewage Backup Cleanup in Jackson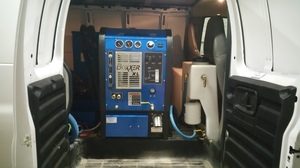 Few property incidents are as unpleasant as a sewage cleanup Jackson. Unfortunately for property owners in Central Mississippi, heavy rain puts local homes and businesses at even greater risk for this most dreaded disaster restoration. As rainwater floods the sewer system, sewage is forced up into your property through your pipes.
Whether you have Mother Nature to blame for your current sewage cleanup or it's just the fault of an accidental clog or malfunctioning plumbing, don't worry. The situation is not as dire as it looks, because 911 Restoration is standing by. Call us at 601-501-6119 and allow us to provide a free visual inspection.

911 Restoration of Central Mississippi offers emergency sewage cleanup service to property owners in Jackson, Pearl, Madison, and the surrounding area. No matter when your sewage water backup occurs—day or night, any day of the year—a friendly staff member will be there to take your call. Even better, our highly trained sewage cleanup Jackson technicians will be at your property within 45 minutes of your call, guaranteed.
That's because 911 Restoration is all about making recovery easy. That's also why water damage specialists assist with your insurance claim and billing. They make the entire process as easy and affordable as possible because they want you to see what they see: that a property incident is nothing more than an opportunity to revive your home or business and start fresh.
Sewage extraction? Of course, they do that. Sanitation? Damage repairs? Check and check.
They even inspect for mold and follow up with mold decontamination if necessary.
When you call 911 Restoration, you're calling for comprehensive service and immediate peace of mind. Reach out today and let us show you what a Fresh Start feels like. Call us at 601-501-6119 and see how we can help.
Repairing Toilet Water Damage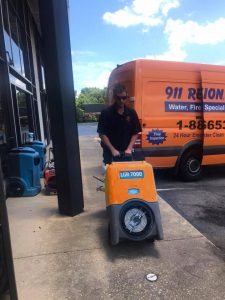 The hazards associated with toilet water damage vary depending on whether the damage is from gray water (containing only urine) or black water (containing feces or sewage). Black water brings with it the risk of illness. This particular form of toilet water overflow can carry a variety of disease-causing bacteria and pose a health risk to you and any human or pet who shares your space.
Aside from health hazards, sewage and toilet overflow can wreak serious havoc on the structures of your home, especially if you don't call in a professional 911 restoration team right away.
Standing water can seep into wood flooring or carpet and cause permanent destruction. It can weaken drywall. Not even concrete floors are immune. Impenetrable though it seems, concrete absorbs and holds water. Without the professional know-how and drying equipment of a certified sewage cleanup Jackson company, that absorbed water is likely to surface again and lead to a mold infestation…, especially in the muggy climate of Central Mississippi.
The sewage restoration experts at 911 Restoration act quickly to minimize these damages and repair any irreversible destruction. They are on call 24/7/365 because they know your emergency cannot wait. It's better to prevent sewage water damage than to repair it.
Even so, whether your situation calls for prevention, repair, or a little of both, 911 Restoration has you covered.
Call 911 water damage experts today at 601-501-6119 for reliable, emergency service.
Certified Water Cleanup Company
Because a sewage backup poses such notable risks to both your health and property, it is imperative that you choose a contractor who is IICRC certified.
The technicians at 911 Restoration of Central Mississippi have their IICRC certification and are highly trained to handle all aspects of sewage cleanup. They even handle mold removal, sampling, and testing. If they find any mold colonies on your property, they remove that, too.
Your dedicated sewage removal team does not rest until they're satisfied they've restored your property in the truest sense of the word. Cleaning isn't enough. Drying isn't enough. Repairing isn't enough.
You can also call on 911 Restoration with full peace of mind that you're getting the most expert service available. Our sewage cleanup experts are all IICRC -certified. They have been highly trained to oversee every aspect of sewage restoration.
Where you see a nasty sewage cleanup, 911 Restoration of Central Mississippi sees the potential for a brand new beginning. Contact us today at 601-501-6119, and we'll help you see the same bright future.
Serving the communities of Benton ,Bolton, Brandon, Brookhaven, Byram, Camden, Canton, Clinton, Crystal Springs, Edwards, Florence, Flowood, Gallman, Georgetown, Hazlehurst, Jackson, Learned, Pearl, Pelahatchie, Piney Woods, Pocahontas,Puckett, Raymond, Richland, Ridgeland, Sandhill, Sharon, Star, Terry, Utica, Vicksburg, Yazoo City, Youngton, Wesson, Whitfield and surrounding areas.