Mold Removal in Whitfield
After any water damage emergency, it's easy to be concerned about what should happen next. After the water cleanup is completed, it's important to look for any lingering mold. Unfortunately, these spores can pop up as soon as 24 hours after any water damage emergency.
The best thing that you can do in these cases is to call a team of IICRC certified technicians with years of experience. The technicians are available 24/7/365, and respond to all mold remediation calls within 45 minutes. You will never be kept waiting for the best mold cleanup services in the Flowood area. For speedy mold cleanup services, call 911 Restoration of Jackson today.
Preventing Mold Emergencies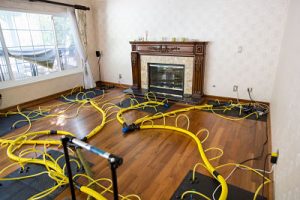 There are a few steps that you can take to prevent flood emergencies in the Clinton area. For starters, you can have your property regularly inspected by a plumber to make sure that everything is in working order. This will help prevent any burst pipes in the future. In addition, you can take all precautions to only flush items that are meant to be flushed to prevent any additional clogs.

Even if you are careful, sometimes the unexpected happens and heavy rains or wind can lead to a water damage emergency. After the water removal, make sure to have our technicians visit the property for a mold inspection. They will be thorough so no area of the property will be left untreated.

Whenever excess water lingers on wood, there is the possibility of mold. This is not the fault of the property owner, and will be taken care of promptly. No excess mold will be lingering on the property after the cleanup.

Property owners in Flora often wonder whether mold remediation services are covered by insurance. The fact is that the techs work with all insurance companies, and even work with you to find the best plan for your mold remediation. Their goal is to ensure that you pay as little out of pocket as possible.

If you spot mold in the bathroom or a popcorn ceiling, it is best not to delay. You may think that it's easier to just try to conduct the cleanup yourself, but decontamination should be left to the professionals. Not only could the scrubbing make it worse, but the techs will do their part to ensure that the area is cleaner than they found it.

Not only do the technicians provide excellent mold remediation services, they operate with an optimistic attitude as well. They truly believe in both a Fresh Start for you and your property. In addition, a free visual inspection for property owners only is also offered. For the best mold cleanup services in the Camden area, contact 911 Restoration of Jackson today.
Mold Removal Services You Can Trust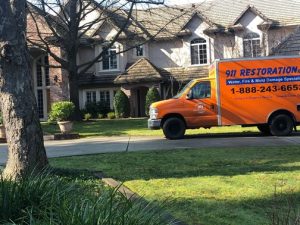 When dealing with a mold decontamination on the property, it's understandable to want it to be over as quickly as possible. That's why you should call the techs in the Canton area. They're aware of the impact that it can cause on the property and operate as swiftly as possible. The mold decontamination will be over before you know it.

The professionals also understand how important your property is to you and do their best to put your needs first. In addition, any unharmed belongings will be boxed up and placed to the side to ensure that they remain that way. Your property will be in even better condition than it was before the remediation.

In order to determine how to proceed with the inspection, the techs may even send samples out for third-party testing. Hazmat suits and infrared technology will even be used to get the most accurate read possible. This inspection will not be the end of your property, but rather an opportunity for a Fresh Start.

Whether you own a residential or commercial property in Whitfield, the techs have your back. From top to bottom, your property will be clean and dry. Mold remediation can be a trying time for property owners, but the techs do their best to put you first in all situations. You'll notice their optimistic attitude during the removal process.

When it comes to mold removal, make sure to go with a team of technicians that understand your needs. 911 Restoration of Jackson has years of experience in remediations, so there's nothing they can't handle. A Fresh Start is just around the corner for both you and your property. For the best mold inspection services in the Whitfield area, call 911 Restoration of Jackson today.

Servicing the areas of Benton, Bolton, Brandon, Brookhaven, Byram, Camden, Canton, Clinton, Crystal Springs, Edwards, Flora, Florence, Flowood, Gallman, Georgetown, Hazlehurst, Jackson, Learned, Madison, Pearl, Pelahatchie, Piney Woods, Pocahontas, Puckett, Raymond, Richland, Ridgeland, Sandhill, Sharon, Star, Terry, Utica, Vicksburg, Yazoo City, Youngton, Wesson, Whitfield and surrounding areas.