Mold Removal in Bolton
The key to mold prevention is moisture control. Bolton experiences significant rainfall and humidity, creating a moisture-rich environment that is conducive to mold growth. 911 Restoration of Central Mississippi understands how humid, subtropical climates cause mold and mildew. You can count on our technicians to conduct mold remediation in Bolton that will address both the mold and moisture issues in your home or business. Our repair techs will start the mold cleanup by giving the property owner a free mold inspection and estimate. We are thorough in our mold removal practice and guarantee your property will pass the mold clearance test once we complete our services.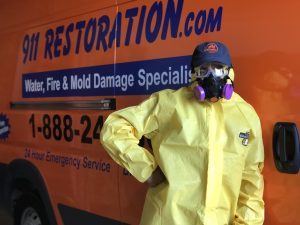 911 Restoration of Central Mississippi wants you to feel confident in our ability to tackle the mold problem found on your property. We employ IICRC certified mold experts that are qualified to perform residential and commercial mold removal.
Unlike other mold remediation companies, 911 Restoration is licensed, bonded, and insured. This insurance status ensures that you are protected in full when you work with our mold specialists.
If your property has recently been affected by a flood, ceiling leak, pipe burst, sewage overflow, plumbing leak, or any other moisture problem, then you may have mold.
We will mitigate mold from water damage by conducting comprehensive mold remediation that deals with every aspect of the infestation. From structural drying and dehumidifying to mold sampling and testing, our technicians have got you covered.
Call 911 Restoration of Central Mississippi as soon as you notice signs of mold or water damage on your property. Our technicians will show you that a Fresh Start is possible today!
Understanding Mold and How it Can Affect You
Mold spores are microscopic and are found everywhere, both indoors and outdoors. Since the spores are tiny and virtually weightless, they can spread through the air and land throughout your property.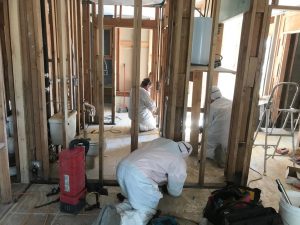 Like any other living thing, mold needs a food source, water, and an environment to survive. It tends to infest the organic materials found inside your home or business, such as wood, paper, and drywall.
You may observe mold as discoloration on the walls and ceiling, usually presenting as pink, green, brown, and black. If you notice large clusters of indoor mold, it is crucial to reach out for professional mold cleanup services.
When an extensive infestation is present, you run into particular risks. Certain mold spores can cause allergic reactions, respiratory issues, and infections. The longer the spores are present, the higher the risk.
Mold can also affect the structural integrity of your property. When wood becomes saturated with water, mold may begin to grow. It will eat through the material, causing it to warp and weaken.
Mold can begin growing within 24 hours of exposure to moisture. 911 Restoration of Central Mississippi understands that it is crucial to quickly administer mold cleanup in Bolton due to the speed at which the spores can multiply.
By reaching out to our mold specialists as soon as you observe mold growth and water damage, you can significantly reduce the structural damage and health risks. Call 911 Restoration of Central Mississippi today, and we will conduct the mold removal services you need to recover from even the most severe infestation.
Expert Mold Cleanup Procedures from a Company You Can Trust
Once we have identified a mold problem in your home or business, our technicians will execute a comprehensive mold decontamination strategy.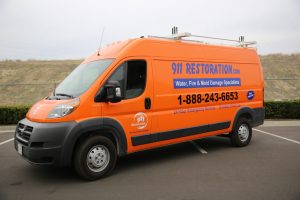 By identifying the moisture source, we will eradicate all visible spores and stop future mold infestations. Our repair techs will not only clean and disinfect surfaces, but repair any water damage and thoroughly dry the contaminated area.
Drying and dehumidifying the property is vital to the mold remediation process. The drier we get the area, the better the chances are of preventing reoccurring mold problems.
When it comes to cleaning mold, you may have questions regarding what we can and cannot save. We can usually salvage glass, metal, and plastic after they are disinfected.
However, porous materials, such as wood, drywall, and textiles, usually need to be discarded and replaced. We can conduct carpet water removal, but the drying process doesn't remove mold spores. In some cases, it may be necessary to throw the carpet away.
As part of the mold decontamination, our technicians will safely dispose of any moldy materials from the property. We handle mold in the safest possible way to avoid spreading spores to unaffected areas.
Call 911 Restoration of Central Mississippi when you need fast and thorough mold remediation. You will receive help from a team that cares and understands what you need today!
Servicing the cities of Benton, Bolton, Brandon, Brookhaven, Byram, Camden, Canton, Clinton, Crystal Springs, Edwards, Flora, Flowood, Florence, Gallman, Georgetown, Hazlehurst, Jackson, Learned, Sandhill, Madison, Pearl, Pelahatchie, Piney Woods, Pocahontas, Puckett, Raymond, Richland, Ridgeland, Sharon, Star, Terry, Utica, Vicksburg, Yazoo City, Youngton, Wesson, Whitfield, and the surrounding areas.