Mold Removal in Camden
The only way to completely eradicate a mold infestation is to contain the moisture problem allowing it to grow. The rainfall and humidity in Camden contribute to the appearance of indoor mold and mildew. 911 Restoration of Central Mississippi understands the connection between moisture and mold and will act quickly to contain the situation. Our technicians will provide both water damage and mold remediation in Camden to recover your property from an infestation completely. We will start the mold removal service by giving the property owner a free mold inspection.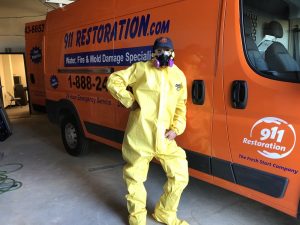 911 Restoration of Central Mississippi specializes in residential and commercial mold remediation. You can trust our technicians to take care of every aspect of the mold cleanup.
Our mold specialists will clean away mold spores and sanitize the property. In cases of severe contamination, we will facilitate professional mold sampling and testing services.
Along with mold decontamination, our technicians focus on structural drying and dehumidifying procedures. It is crucial to remove the water source to prevent any future mold growth.
911 Restoration works with technicians that are IICRC certified so you can have total confidence in our ability to tackle any mold problem. We are also licensed, bonded, and insured for your protection.
Call the team that will successfully overcome the mold intrusion in your home or business. 911 Restoration of Central Mississippi will show you that a Fresh Start is possible today!
Mold Removal Starts with a Free Mold Inspection
When our mold specialists arrive, the first thing they will do is conduct a thorough mold inspection. Mold can move behind walls and ceilings at a shocking pace, making an in-depth examination vital to your recovery.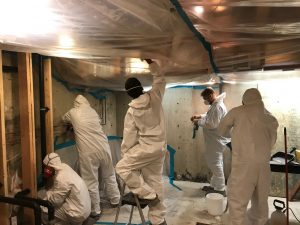 Unlike other mold remediation companies, 911 Restoration has been in the industry for decades. We have the experience and skill set needed to uncover the extent of the infestation and understand its life source.
When you need mold cleanup in Camden, there is usually water damage present on the property. Whether it be a house water leak or plumbing issue, the constant moisture will eventually lead to mold.
Mold from water damage can manifest faster than you might think. Mold spores can grow within 24 hours of being exposed to moisture. The only way to completely stop the mold is to remove the water source. We use infrared leak detection technology to discover hidden leaks inside walls, ceilings, and floorboards.
If we find any active leak or flooding problems during the mold inspection, we will immediately conduct any needed water damage restoration. Our repair techs will use dryers and dehumidifiers to extract as much moisture from the area as possible.
Once we control the moisture issues, our technician can concentrate on the mold cleanup and sanitization effort. We use powerful yet safe cleaning agents to kill hazardous mold and bacteria.
911 Restoration of Central Mississippi understands that mold remediation is a multifaceted process. Call the mold specialists you can trust to take care of every aspect of your mold problem today.
Mold Experts That Care About Keeping You Safe
If you can see or smell mold in your home or business, then you should take steps to eliminate it from the premises.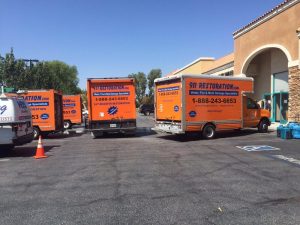 There are risks that come with housing a mold infestation, and you cannot be sure of the extent of these risks until they have affected you and your loved ones. Some people are more sensitive to mold exposure, while others may have a tolerance.
Allergic reactions are the most common health issue associated with mold exposure. These symptoms typically include wheezing, congestion, itching eyes, coughing, skin rashes, headaches, and body aches.
To be safe, you should reach out for a mold inspection as soon as you notice signs of water damage and mold. A professional assessment of the property will allow us to identify the full extent of the mold growth.
Certain types of molds produce mycotoxins that can create more severe health hazards than allergies. Black mold is one of these hazardous molds. The only way to know for sure that you have mycotoxins on your property is to test the spores.
During the mold remediation, our technicians will gather spore samples and facilitate professional testing at a third-party laboratory. Testing the spores will determine the species and toxicity levels.
911 Restoration of Central Mississippi wants to ensure your safety under every possible circumstance. So, call our technicians when you need a comprehensive mold cleanup in your home or business today!
Servicing the cities of Benton, Bolton, Brandon, Brookhaven, Byram, Camden, Canton, Clinton, Crystal Springs, Edwards, Flora, Flowood, Florence, Gallman, Georgetown, Hazlehurst, Jackson, Learned, Sandhill, Madison, Pearl, Pelahatchie, Piney Woods, Pocahontas, Puckett, Raymond, Richland, Ridgeland, Sharon, Star, Terry, Utica, Vicksburg, Yazoo City, Youngton, Wesson, Whitfield, and the surrounding areas.