Mold Removal in Clinton
After a water damage emergency, you may think that your property is in the clear. The truth is that mold can sprout on the property within 24 hours of a water emergency. It's imperative to have certified mold technicians on the property after any water damage emergency. Whether it is caused by a burst pipe or heavy rains in the Jackson area, 911 Restoration of Jackson has all of your mold remediation needs covered. The technicians are available 24/7/365 to respond to mold removal calls. If you spot mold after heavy winds or rain, call the technicians today. 911 Restoration of Jackson believes in a Fresh Start for both you and your property after any mold removal, and takes care of all of your needs with care.
Causes of Mold on The Property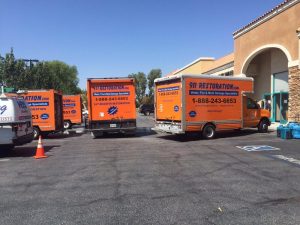 In order to book mold remediation services, sometimes it's helpful to first understand where the spores come from. Common questions in the Clinton area are whether mold could move inside the walls or if mold removal is covered by property insurance. The truth is that 911 Restoration of Jackson accepts all forms of insurance, and even works with you to find the best plan for your mold decontamination needs. A free visual inspection for property owners only is also offered.

It's easy to wonder where the mold came from in the first place. Burst pipes can be caused by freezing temperatures, in addition to plumbing failures. It's helpful to have a plumber regularly inspect your pipes on the property in Vicksburg to ensure that everything is in working order. This can help alleviate some of the need for mold cleanup in the future.

Another possible source of mold is if there is a constant leak on the property. One way to halt any plumbing emergencies is to make sure only the correct items are flushed down the toilet, excluding any Q-tips or cotton swabs that could clog it and cause a burst pipe. If you notice popcorn ceiling or any mold on the property after heavy rains, contact the mold removal specialists today.

If you are looking for fungus removal in the Terry area, the technicians have you covered. In some cases, structural dehumidifying and drying will be offered. The mold decontamination techs are IICRC certified with years of remediation experience, so you can trust them with all of your mold inspection needs. Call 911 Restoration of Jackson for the best removal services in the Star area.

A Mold Removal Team That Puts You First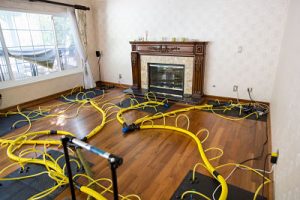 When dealing with a mold remediation, it's important to have technicians that understand your emotional needs. 911 Restoration of Jackson has years of experience, so they are very familiar with any mold cleanup that is thrown their way.

Sometimes mold can be very visible on the property, such as on the ceiling or growing on the walls in the bathroom. However, sometimes it can be in hidden spaces such as crawl spaces or basements. The technicians are trained to find these hidden spaces and to remove any excess mold in a timely manner before it starts to deteriorate your property.

When dealing with a mold remediation, it's important to have a team of trained techs that understand your needs. Not only do the technicians have years of experience, but they also go above and beyond to service your property. In some mold inspections, third party testing will be used to find a more accurate read. In addition, infrared technology will be used to find as many of the spores as possible and get rid of them in a timely manner.

The techs not only care about your property during the mold cleanup process, but your health as well. If you start coughing or sneezing after spotting spores on the property in Canton, call the techs in the area today. They will be on the property as soon as possible to conduct the decontamination process.

Not only do the techs put your emotional needs first, they try to ensure that the impact of the mold decontamination will be as minimal as possible. They do everything they can to make sure that your out of pocket expenses for the cleanup are as low as they can be. They work hard to provide both you and your property with a Fresh Start after any remediation.
For mold removal techs in the Bolton area that go above and beyond, you need trained techs with years of experience. For the best mold cleanup services after any water damage emergency, call the technicians at 911 Restoration of Jackson today.
Servicing the areas of Benton, Bolton, Brandon, Brookhaven, Byram, Camden, Canton, Clinton, Crystal Springs, Edwards, Flora, Florence, Flowood, Gallman, Georgetown, Hazlehurst, Jackson, Learned, Madison, Pearl, Pelahatchie, Piney Woods, Pocahontas, Puckett, Raymond, Richland, Ridgeland, Sandhill, Sharon, Star, Terry, Utica, Vicksburg, Yazoo City, Youngton, Wesson, Whitfield and surrounding areas.