Mold Removal in Edwards
Mold is a part of everyday life. Spores are everywhere, indoor and outdoor, and the only way to prevent an infestation is by moisture control. Ceiling leaks, dripping pipes, and house flooding issues can all spark a mold outbreak. 911 Restoration of Central Mississippi is prepared to administer water and mold cleanup in Edwards to stop an infestation in its tracks. Our technicians are IICRC certified to conduct both residential and commercial mold remediation. We will take care of every aspect of your mold problem by performing thorough water damage and mold removal procedures.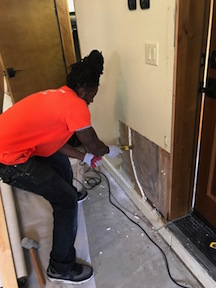 It can be challenging to determine on your own if you have a mold problem since mold thrives in the dark, hidden areas of homes and businesses.
To ensure we understand the full extent of the infestation, 911 Restoration of Central Mississippi offers free mold inspections to property owners.
Mold spores can quickly spread throughout walls and ceilings, making it crucial to reach out to our mold experts at the first sign of growth. We will respond with urgency and arrive prepared to begin the mold cleanup.
Along with mold removal, 911 Restoration of Central Mississippi specializes in water damage restoration. Our comprehensive skill set is what sets us apart from the other mold remediation companies.
When you need mold remediation in Edwards, call the team you can trust to take care of everything you need to overcome a mold crisis. With our help, 911 Restoration of Central Mississippi guarantees your property will pass the mold clearance test.
Expert Mold Cleanup Includes Water Damage Restoration
Like all living things, mold needs sustenance to survive. It can live off water and organic materials found in homes and businesses, such as wood, drywall, paper, and cotton.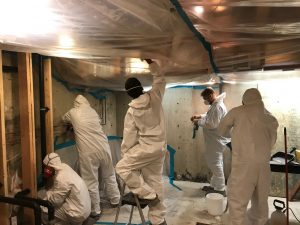 Under the right conditions, mold spores can begin growing on your property within 24 hours of coming into contact with moisture. The key to stopping the infestation is cutting off its food and water supply.
911 Restoration of Central Mississippi aims to create an unfavorable environment for mold through comprehensive mold remediation services.
When our mold specialists arrive, they will conduct a thorough mold inspection to check for all possible water sources. These sources can present in the form of a ceiling leak, flood damage, or condensation buildup.
Mold due to water damage is common, and we are experts at mitigating both problems simultaneously. While cleaning mold out of your property, we will address any water issues contributing to the infestation.
On top of fixing water leaks and flood damage, our technicians will focus on structural drying and dehumidifying procedures. By getting your property as dry as possible, we can prevent future infestations.
Whether you need us to make repairs for pipe bursts or clean mold on walls, you can count on 911 Restoration of Central Mississippi. Our repair techs will leave your property looking fresh and clean, so call us for mold removal services today!
Early Detection Can Prevent Mold Infestations
911 Restoration of Central Mississippi wants to make it possible for everyone in Edwards to receive mold remediation. Prompt assistance is vital to your recovery, and there should be no reason you hesitate to seek out help.
If you are concerned with mold inspection costs, call our professionals. We always provide property owners with free mold inspections.
The quicker our mold specialists survey your property, the better the chances are of catching an infestation at its beginning stages. We don't want to allow the spores to spread throughout your walls and ceilings.
You can assist with early mold detection by staying aware of your surroundings. Since you can't always see mold, it is essential to pay attention to the other signs.
The smell is one of the most prominent signifiers of mold. It creates a musty odor that can permeate a particular area of the property. If you walk into a room and notice a funky smell, then you may have a mold problem.
Some mold species pose health hazards. You might have mold living on your property if you experience allergies only when you are inside your home or business. Mold can also cause headaches, respiratory issues, and infections.
Your safety is a critical aspect of any mold cleanup job. Our team wants you to feel safe and comfortable in your property at all times. So, call 911 Restoration of Central Mississippi for full-service mold removal today!
Servicing the cities of Benton, Bolton, Brandon, Brookhaven, Byram, Camden, Canton, Clinton, Crystal Springs, Edwards, Flora, Flowood, Florence, Gallman, Georgetown, Hazlehurst, Jackson, Learned, Sandhill, Madison, Pearl, Pelahatchie, Piney Woods, Pocahontas, Puckett, Raymond, Richland, Ridgeland, Sharon, Star, Terry, Utica, Vicksburg, Yazoo City, Youngton, Wesson, Whitfield, and the surrounding areas.