Mold Removal in Florence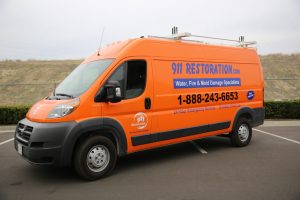 Property owners in Florence know that property damage can occur at any time and can be devastating if left unchecked for too long. Mold is one of the most frustrating types of damage thanks to how subtly it grows save for extreme cases. Mold contamination shows itself by revealing organic materials that have been eaten away, and the inhabitants will usually present health issues like headaches or breathing problems. At 911 Restoration, our IICRC certified technicians are ready 24/7/365 to begin working on your mold remediation, and if needed, water damage restoration. We guarantee to arrive within 45 minutes of your call whether you live in Florence or another city in Jackson county.
Mold doesn't have to be allowed to grow over time. All it takes is being aware and knowing what the signs of mold contamination look like. Some of the most common signs of mold include:
Rotting wood

Crumbled drywall

Visible mold

Breathing problems

Headaches

Persistent cough

Stale odor
Normal cleaning methods and cleaners are a waste of time against mold. They don't actually remove the mold and instead agitate the mold spores. Agitated mold spores can go airborne and therefore spread to previously unaffected areas of the property. That's why it's important to remember to call for professional mold removal as soon as possible. 
If you suspect mold or notice mold during an inspection, call 911 Restoration immediately. We'll be there within 45 minutes to perform mold remediation services and deliver your Fresh Start.
Mold Remediation Companies
As your mold remediation company, we know that mold remediation is a complex and involved process that needs to be done in a specific order to be successful. Our years of experience and ongoing training have allowed our IICRC certified technicians to develop and deliver a streamlined mold removal process that delivers guaranteed results to our Florence customers. Besides mold removal, our technicians are trained and prepared to handle any other emergency restoration service needed.
Before starting, we perform a visual mold inspection. This inspection helps us determine how far the mold has spread and what caused the mold to grow. Once the inspection is complete, we can develop an action plan that we go over with our Florence customers. After that it's time to proceed to the next step. That step is what we call containment. We work to contain the mold and keep it from spreading with the latest containment measures and vapor barriers available.
As soon as containment is secured, we move straight into mold decontamination. We only use the strongest industrial cleaners and detergents to neutralize and kill the mold spores. Once neutralized, the mold removal can be safely performed. During this process, we also handle any water restoration or repairs needed to get the property back to good as new and prevent the mold from making a return appearance.
Everything from mold inspection to mold remediation is provided by our technicians at 911 Restoration. Call today for the Fresh Start that has you breathing easier.
Mold Expert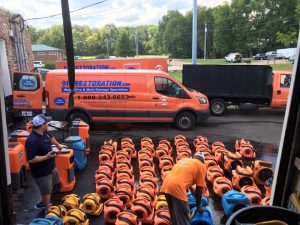 Mold removal requires a mold expert like the technicians at 911 Restoration to competently handle. While mold thrives in darkness and dampness, the different ratios of water and darkness can play a significant difference in how much mold is present and what kind of mold is growing. A flooded basement is a property owner's worst nightmare when it comes to mold. Not only is flood cleanup needed, but quick mold remediation is needed due to the contaminants involved. Floodwater contains dirt, debris, and even waste if it comes from the sewer line. In these cases, the mold can easily be or become toxic mold.
In this case, full mold remediation is already needed, but additional precautions are needed before the technicians can begin. First, hazmat gear is needed since toxic mold can cause organ shutdown and even death. The second thing needed is mold testing. We take your and our health seriously so when toxic mold is suspected, we make sure to verify the toxicity of the mold. After those two things are completed, we proceed with our normal mold decontamination and mold removal processes.
Whether you need mold decontamination or just a mold inspection, call 911 Restoration. We provide unmatched mold remediation services to our Florence customers. Get the Fresh Start you deserve today!
Servicing the cities of Benton, Bolton, Brandon, Brookhaven, Byram, Camden, Canton, Clinton, Crystal Springs, Edwards, Flora, Florence, Flowood, Gallman, Georgetown, Hazlehurst, Jackson, Learned, Madison, Pearl, Pelahatchie, Piney Woods, Pocahontas, Puckett, Raymond, Richland, Ridgeland, Sandhill, Sharon, Star, Terry, Utica, Vicksburg, Wesson, Whitfield, Yazoo City, Youngton, and surrounding areas.