Mold Removal in Flowood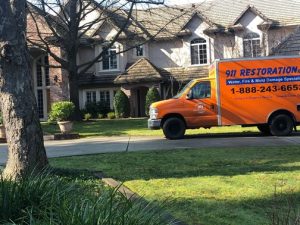 Property owners in Flowood know that mold is subtle yet devastating to the property as well as the inhabitants within. Mold eats away at the organic materials such as sheetrock and furniture. It also causes headaches and breathing issues at a minimum for people. Since it's so hard to detect, it's important to take quick action as soon as mold is suspected. IICRC certified technicians at 911 Restoration are ready to provide mold remediation services 24/7/365 for the residents in Flowood. We guarantee our arrival within 45 minutes no matter where you live in Jackson county.
Staying ahead of a mold infestation is much easier when you know what to be on the lookout for. The most common signs of mold include:
Rotting wood

Crumbled drywall

Visible mold

Breathing problems

Headaches

Persistent cough

Stale odor
Mold doesn't respond to normal cleaning methods or cleaners like other substances. The mold spores don't die. Instead, they become agitated, which causes them to go airborne. Once airborne they can spread and colonize new areas. That's why professional mold removal is necessary to actually treat the problem and get everything back to good as new.
Once you suspect mold or observe mold, the next step is to call 911 Restoration. Get your mold inspection and mold removal done quickly to minimize the impact. Get your Fresh Start today!
Mold Remediation Companies
As a mold remediation company, we know that a thorough and comprehensive approach is needed to be successful. That's why we have used our years of experience and training to hone our mold remediation process to streamlined perfection. Our approach is versatile and puts us in the position to handle everything from mold inspection and mold decontamination to full mold remediation. Before we get started we perform a visual mold inspection. This inspection allows us to see how far the mold has spread and if there are other concerns to consider in our mold removal approach.
Once the inspection is complete, we develop our action plan for your approval. Once approved, we immediately get to work on containment. We use only the latest containment measures including vapor barriers to contain the mold. Once contained, mold decontamination can occur. This step is necessary before mold removal can happen. The industrial strength cleaners and detergents neutralize and kill the mold spores making it impossible for the mold to spread. At that point, mold removal is performed. 
During this process, we take the time to address any water damage concerns so that the mold is unable to make a return appearance. In addition, any crumbling sheetrock or destroyed flooring is replaced and repaired as part of our comprehensive emergency restoration process.
Call 911 Restoration of Central Mississippi whether you need mold decontamination, mold removal, or even just a mold inspection. Our goal is to get you back to good as new as part of our Fresh Start guarantee.
Mold Removal Water Damage Services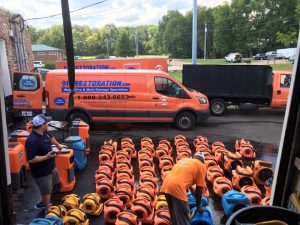 Water damage is the single biggest reason for the development of a mold infestation. At 911 Restoration, we know and are prepared for that by offering water damage services in addition to our mold remediation services. In cases where the amount of water is severe, we work extra quickly to head off potential complications with mold. The more contaminated the water, the more likely it is that the mold will be toxic mold. Toxic mold requires additional steps thanks to the health hazards it presents
The most toxic type of mold is black mold and can cause organ shutdown and even death if not addressed quickly enough. If the mold present is suspected to be toxic, we provide mold testing services to verify its toxicity and we don't hazmat gear before beginning our process. The first step is mold decontamination so that the mold spores can get neutralized as quickly as possible.
Once the spores are neutralized, we can perform a combination of water extraction and mold removal to get the mold eliminated and the property dried out. Especially if the mold is found to be toxic, we may perform a second mold decontamination. We take your health seriously and refuse to take any chances. After removing all mold and water, we get to work on repairing everything that was damaged just like we would with any of our emergency restoration efforts
Call 911 Restoration immediately if you need water damage restoration or mold removal. Get the Fresh Start you deserve today!
Servicing the cities of Benton, Bolton, Brandon, Brookhaven, Byram, Camden, Canton, Clinton, Crystal Springs, Edwards, Flora, Florence, Flowood, Gallman, Georgetown, Hazlehurst, Jackson, Learned, Madison, Pearl, Pelahatchie, Piney Woods, Pocahontas, Puckett, Raymond, Richland, Ridgeland, Sandhill, Sharon, Star, Terry, Utica, Vicksburg, Wesson, Whitfield, Yazoo City, Youngton, and surrounding areas.