Mold Removal in Hazlehurst
Since mold and mildew need moisture to grow, the only way to sufficiently stop an infestation is by cutting off its water source. 911 Restoration of Central Mississippi are experts at conducting both water and mold cleanup services. When you hire our mold specialists, we will repair any water damage contributing to the mold growth. Our technicians are IICRC certified to perform mold removal in residential and commercial properties. When we arrive at your home or business, the property owner will receive a free mold inspection so we can determine the extent of the mold and water damage.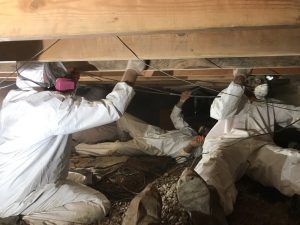 911 Restoration is different from the other mold remediation companies. As a licensed, bonded, and insured organization, you will be protected in full under all circumstances. 
You can trust that 911 Restoration of Central Mississippi will address every aspect of your mold problem. From repairing ceilings leaks to disposing of moldy drywall, we will handle it all.
Along with eradicating mold infestations, our technicians focus on prevention. The best way to stop future mold growth is by keeping the inside of your property dry throughout the year.
The drying process is especially crucial in Hazlehurst, where humidity levels can get quite high. By initiating structural drying and dehumidifying services, we hope to create an environment that is impermeable to mold and mildew.
911 Restoration of Central Mississippi wants to be your one-stop-shop for all your mold removal needs. So, call our mold experts when you need mold remediation in Hazlehurst!
Summer Storms Can Lead to Mold Problems
Hurricanes, thunderstorms, and tornadoes pose significant risks in Hazlehurst. These storm systems typically occur in the late summer and early fall but have the potential to strike any time.
These extreme weather patterns create torrential rainfall during the most humid times of the year. The warm, wet environment makes it possible for mold and mildew to run rampant inside homes and businesses.
It only takes 24 hours for mold spores to grow after exposure to moisture. This makes it necessary for you to receive mold cleanup in Hazlehurst as soon as you notice signs of an infestation.
911 Restoration of Central Mississippi understands the importance of fast mold remediation. We will respond quickly to contain the situation and begin eradication procedures.
For 911 Restoration, mold removal involves water damage restoration. We will check for ceiling leaks caused by seasonal storms and repair any water damage found on the property. We will also implement thorough drying and dehumidifying services.
Once we get a handle on the moisture issues, our technicians will execute a mold remediation strategy that is sure to make your property pass our mold clearance test. We will conduct mold decontamination procedures to remove any health risks caused by the spores.
Call 911 Restoration of Central Mississippi to receive a full-service mold cleanup effort from a team that cares and understands your needs today! 
Stay Safe with Regular Mold Inspections
Discovering mold in your home or business can be unsettling. Not only can mold impact the structural integrity of your property, but it can influence your health.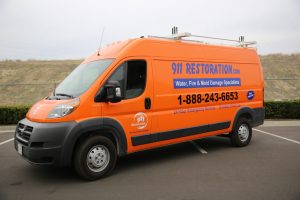 911 Restoration of Central Mississippi understands these health risks, and we will do whatever it takes to keep you safe and secure.
There are many different types of mold. While some are completely harmless, others can present health hazards. The only way to determine the kind of mold living on your property is to conduct professional tests.
Our experts offer professional mold sampling and testing services. We will gather spore samples and facilitate testing at a third-party laboratory to determine the toxicity levels of the mold species. 
If you have concerns regarding mold growing inside your home or business, 911 Restoration will provide the property owner with a free visual mold inspection. This assessment is risk-free and will allow you to make an informed decision regarding mold remediation.
Your safety is always at the forefront of everything we do. By offering free mold inspections, we hope to provide you with the information you need to move forward with our mold cleanup services. 
Call 911 Restoration of Central Mississippi if you have any questions regarding mold removal, water damage, or anything else. Our technicians will guide you through the restoration process towards the Fresh Start you deserve!
Servicing the cities of Benton, Bolton, Brandon, Brookhaven, Byram, Camden, Canton, Clinton, Crystal Springs, Edwards, Flora, Flowood, Florence, Gallman, Georgetown, Hazlehurst, Jackson, Learned, Sandhill, Madison, Pearl, Pelahatchie, Piney Woods, Pocahontas, Puckett, Raymond, Richland, Ridgeland, Sharon, Star, Terry, Utica, Vicksburg, Yazoo City, Youngton, Wesson, Whitfield, and the surrounding areas.