Mold Removal in Jackson
It can be glaringly obvious that you have a mold problem in your home or business, but sometimes it can be quietly infesting the entire property without you ever seeing a spore.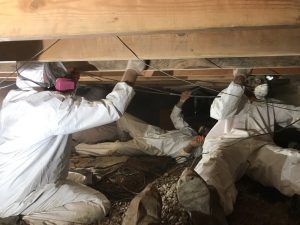 The only way to be absolutely sure that mold is not growing throughout your property is by hiring the technicians at 911 Restoration of Central Mississippi to thoroughly check all those hard to reach places. Call us at 601-501-6119 and allow us to provide a free visual inspection.
Customers never have to worry about taking a financial risk when they work with our repair techs because we provide property owners with free visual mold inspections. The technicians are familiar with both residential and commercial properties, so you can be confident in their ability to catch even the most hidden mold colonies.
By implementing IICRC Certified mold remediation techniques, the professionals will completely decontaminate your property, as well as repairing any water damage they find during the mold inspection.
Working with a restoration company that is qualified to execute comprehensive services that deal with both mold and water damage is crucial to a successful mold removal job since water is the lifeblood of mold.
High levels of moisture and humidity can cause mold to start growing within 24 hours, making immediate assistance crucial if you want to stop an infestation at its beginning stages. So, if you need mold remediation in Jackson, call 911 Restoration of Central Mississippi right away at 601-501-6119!
Professional Mold Remediation Right When You Need It
The mold experts treat every infestation like an emergency, which means they act quickly to determine a mold decontamination strategy specifically designed for your situation.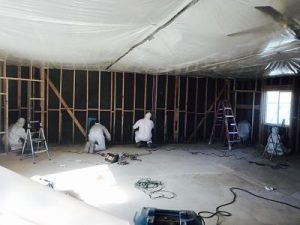 Every property is different, especially if you own a warehouse, commercial building, or retail space that is more difficult to maintain than your private residence. However, you can trust that our technicians are experts at removing mold no matter what type of property you own.
By addressing both the mold contamination and the water damage issues plaguing your property, the mold specialists can get your home or business back to the clean, safe environment you deserve.
Implementing structural drying and dehumidifying procedures is essential to, not only the mold removal process but to stopping mold from coming back in the future. If there is any moisture left behind, mold spores can begin growing again within a matter of days.
Customers can trust that the technicians at 911 Restoration of Central Mississippi will be thorough with their work, ensuring that they eradicate every trace of mold and water damage. Call our specialists when you need help from a team that cares and understands your needs and, before you know it, your property will be clean and safe for you and your family again. Call us at 601-501-6119 and see how we can help.
A Mold Inspection Costs Nothing At 911 Restoration
The significance of giving property owners a free mold inspection is much more than just providing a complimentary service. It allows the technicians to check the areas of the property that customers are not able to investigate themselves to really get to the root of the problem.
Mold remediation can only be successful if the source of the infestation is eliminated, otherwise cleaning mold from the walls and ceiling will be mainly superficial. 
No other restoration company matches the thoroughness in which we conduct our mold remediation services. Our mold experts will go up in the attic, follow leaks behind walls, trace outside mold going into the basement, check behind wallpaper, and look underneath floorboards.
This attention to detail is what it takes to keep customers safe and healthy. Inhaling mold spores can be detrimental to your health, depending on the species that are growing in your property.
To determine the type of mold in your home or business, technicians will take samples of the spores and send them to a third-party laboratory where they will be tested. By confirming the species of mold, you will know whether or not it could be affecting your health and what actions you need to take to prevent that from happening.
If you need a mold inspection in Allen, call 911 Restoration of Central Mississippi today, and the professionals will show you that it is possible to turn a mold infestation into a Fresh Start! Call us at 601-501-6119