Mold Removal in Pocahontas
If you have a mold problem in your home or business, then chance are you also have a moisture problem. When there is moisture buildup on your property, mold and mildew can thrive. Mold is especially prominent in Pocahontas due to the high humidity and precipitation. 911 Restoration of Central Mississippi will provide you with expert mold remediation that includes water damage cleanup. You can count on our technicians to repair leaks, mitigate flood damage, and conduct mold removal.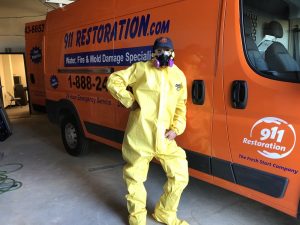 Our technicians will begin the mold remediation by giving property owners a free mold inspection. During the assessment, we will determine the extent of the mold growth and check for any water damage that might be contributing to the infestation.
You can trust us to eradicate even the most severe mold intrusions. 911 Restoration employs IICRC certified technicians who are qualified to conduct residential and commercial mold cleanup in Pocahontas.
It is important that you feel at ease when our crew members arrive. Our entire organization is licensed, bonded, and insured for your complete protection.
We will mitigate every aspect of your mold problem, from mold decontamination to structural drying procedures. Our repair techs will turn your property into an environment uninhabitable for mold and mildew.
Call 911 Restoration of Central Mississippi as soon as you notice signs of either mold or water damage on your property. Our highly trained technicians will provide you with the peace of mind you deserve!
Successful Mold Removal Begins with Moisture Control
It is crucial to keep your property as dry as possible to prevent instances of mold and mildew from cropping up. Since water breeds mold, you need to stay on top of ceiling leaks, plumbing issues, and flooding incidents as they appear.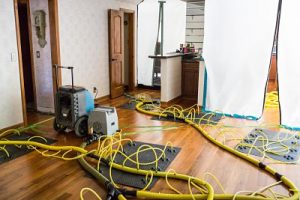 It only takes a day or two for mold to start spreading throughout your property once it has a water source. The speed at which spores can grow leaves a concise window for our professionals to contain the situation.
The faster you reach out to 911 Restoration of Central Mississippi, the better the chances are of us catching an infestation at the beginning stages. Our technicians will conduct a thorough mold inspection to ensure we discover the full extent of the damage.
When you work with 911 Restoration, you can be sure that we will create a mold cleanup plan designed specifically for you. Unlike other mold remediation companies, we provide a full-service approach to mitigating infestations.
Our technicians combine mold removal with water damage restoration to guarantee your property passes our mold clearance test. We will also focus on implementing a prevention strategy that will stop reoccurring mold growth.
When you need mold remediation in Pocahontas, call 911 Restoration of Central Mississippi. Our professionals will turn your mold problem into a Fresh Start today!
Cleaning Mold Out of Pocahontas, One Property at a Time
911 Restoration of Central Mississippi aims to make high-quality, affordable mold remediation available to everyone in Pocahontas.
There is no reason why you should have to live with mold. With our expert mold cleanup services, your property will be transformed into a clean, safe space once again.
There are health risks that come with being in contact with a mold infestation. Inhaling or touching spores may cause you to experience allergies, asthma attacks, or even infections.
Fortunately, 911 Restoration understands how to deal with hazardous substances safely. You can count on us to thoroughly extract all visible signs of mold and sanitize the property with powerful cleaning agents.
When conducting the mold cleanup, we will set up vapor barriers to prevent airborne spores from spreading to other surfaces. Our technicians know how to handle moldy material safely and will dispose of the affected items without contaminating the rest of the property.
Successful mold removal involves paying attention to the fine details. Our scrupulousness makes the difference between superficially cleaning mold and complete eradication.
Our mission is to spread the Fresh Start attitude throughout Pocahontas. So, call 911 Restoration of Central Mississippi to receive help from a team that cares and understands what you need from a mold remediation company.
Servicing the cities of Benton, Bolton, Brandon, Brookhaven, Byram, Camden, Canton, Clinton, Crystal Springs, Edwards, Flora, Flowood, Florence, Gallman, Georgetown, Hazlehurst, Jackson, Learned, Sandhill, Madison, Pearl, Pelahatchie, Piney Woods, Pocahontas, Puckett, Raymond, Richland, Ridgeland, Sharon, Star, Terry, Utica, Vicksburg, Yazoo City, Youngton, Wesson, Whitfield, and the surrounding areas.