Mold Removal in Raymond
Raymond is rainier than most places in Mississippi, with the summer receiving most of that precipitation. The high humidity and significant rainfall create the ideal environment for indoor mold to thrive. It is crucial to call 911 Restoration of Central Mississippi as soon as you notice signs of mold or water damage on your property. It only takes 24 hours for moisture to lead to mold growth. Our technicians are prepared to provide timely mold remediation in Raymond, including water damage restoration, to immediately contain the situation.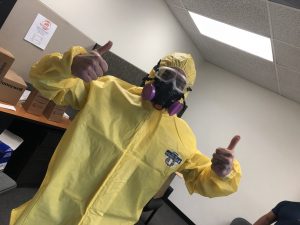 911 Restoration of Central Mississippi offers free mold inspections to property owners. This initial assessment will allow us to determine the extent of the mold growth and discover any water damage contributing to the infestation.
You can trust that our IICRC certified technicians will address every aspect of your mold issue. We train our repair techs to conduct water and mold remediation in both residential and commercial properties.
Our repair techs guarantee that our mold removal services will get your home or business to pass our mold clearance test. We will also mitigate all the other structural damage found on your property.
With our comprehensive mold cleanup services, our technicians will completely eradicate the infestation and prevent future instances of mold from water damage.
Unlike other mold remediation companies, 911 Restoration is licensed, bonded, and insured for your protection. Your safety is always at the forefront of everything we do.
Call the mold experts that care and understand what you need to overcome even the most severe mold intrusion. 911 Restoration of Central Mississippi will show you that a Fresh Start is possible today!
Understanding Mold and How it Can Influence Your Health
When you spend time in damp, moldy environments, there is the risk of these elements affecting your health. Inhaling mold spores can cause allergies that include congestion, coughing, wheezing, skin rashes, respiratory issues, and even infection.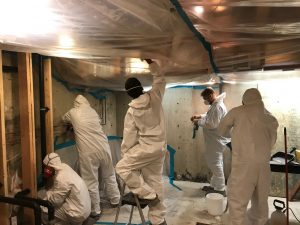 Due to the health risks linked to mold exposure, immediate mold remediation is necessary to keep you safe.
There are many different kinds of indoor molds. Some are hazardous and others are benign. Testing the spores is the only way to confirm whether or not the mold growing on your property is toxic.
911 Restoration will facilitate mold testing services by gathering spore samples and sending them to a third-party laboratory. Experts will evaluate the sample to determine its toxicity levels.
Once we discover the test results, our technicians will implement the appropriate mold removal steps needed to decontaminate the property while keeping you safe.
911 Restoration of Central Mississippi understands that prompt mold cleanup is crucial. When you call us, our technicians will respond ready to begin sanitizing procedures immediately.
Call our technicians if you experience allergies or other health issues when spending time inside your home or business. We will administer mold decontamination services so you can continue feeling safe and sound while inside your property.
Know When it is Time to Call the Mold Specialists
Mold grows wherever there is moisture. Sometimes you may discover the water damage before seeing any mold since spores tend to grow in damp, dark places.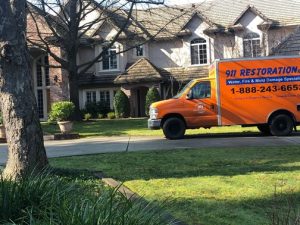 If you see water stains on your walls, ceiling leaks, or dripping pipes, the chances of having a mold problem are high. However, you can't always tell how acute the situation is by just looking at it.
Circumstances involving mold need to be checked out by our trained professionals as soon as possible. Our technicians will provide the property owner with a free mold inspection so we can accurately assess the damage and strategize a mold remediation plan.
As a locally owned and operated restoration company, our staff members are experts at conducting mold cleanup in Raymond. Our experience makes us keenly aware of how weather patterns and other factors affect homes and businesses in Raymond.
You can count on our team to provide you with mold removal services that will turn your property back into a clean, safe environment. We act with precision and urgency to stop an infestation in its tracks.
Airborne mold spores can quickly spread throughout a property and land on previously unaffected surfaces. We use mold decontamination techniques that involve safely removing hazardous materials while containing the infestation.
Call 911 Restoration of Central Mississippi at the first sign of mold or water damage in your property. We will provide the mold cleanup services needed to restore your home or business today completely!
Servicing the cities of Benton, Bolton, Brandon, Brookhaven, Byram, Camden, Canton, Clinton, Crystal Springs, Edwards, Flora, Flowood, Florence, Gallman, Georgetown, Hazlehurst, Jackson, Learned, Sandhill, Madison, Pearl, Pelahatchie, Piney Woods, Pocahontas, Puckett, Raymond, Richland, Ridgeland, Sharon, Star, Terry, Utica, Vicksburg, Yazoo City, Youngton, Wesson, Whitfield, and the surrounding areas.