Mold Removal in Richland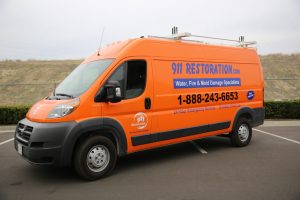 As a property owner in Richland, you know that property damage can happen at any time. In some cases, such as mold contamination, it can be present for a long time before being discovered. The longer mold is allowed to exist the more time it has to eat away at organic materials like sheetrock and carpet and also cause health issues to flare up in otherwise healthy people. That's why the IICRC certified technicians are ready 24/7/365 to deliver mold remediation services to Richland residents. No matter if you live in Jackson county, you can count on us to arrive within 45 minutes of your call.
Minimizing the impact of mold is much more doable when it can be caught early in its lifecycle. Some signs of mold to look out for include:
Rotting wood

Crumbled drywall

Visible mold

Breathing problems

Headaches

Persistent cough

Stale odor
Mold cannot be removed with normal cleaning methods and cleaners. Instead, it only serves to agitate the mold spores and cause them to go airborne. Once airborne, the mold can take root in new areas of the property. That's why professional mold removal is the only reliable solution when it comes to mold growth. 
Call 911 Restoration as soon as you suspect or notice mold. We'll be there to handle your mold remediation and mold decontamination within 45 minutes whether you live in Richland, Star, or another city in Jackson county.
Mold Remediation Companies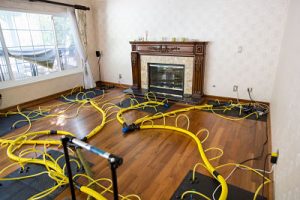 As your mold remediation company, we know what it takes to deliver a successful mold remediation that can be counted on. Over the years, we have gained experience and ongoing training that has allowed us to develop and hone our mold removal process to perfection. We have our procedure down to a science. In addition, we also are trained and prepared to handle other concerns like water damage, which is a common cause of mold growth.
Upon arrival, we start with our visual mold inspection to identify how far the mold has spread as well as any areas of structural concern. Once the inspection is completed, we can develop our action plan to have signed off and approved by our Richland customers. Once approved, we unload equipment to take care of the next step, which is containment. Containment is achieved with the latest containment measures including vapor barriers. After containment is achieved, we proceed with our mold decontamination process. By using industrial strength cleaners and detergents we are able to neutralize and kill the mold spores making it impossible for the mold to spread.
The last part of our process is the mold removal itself along with any needed water damage restoration to get the property back to good as new. In addition, we also perform repairs to the areas damaged by the mold. This includes replacing sheetrock and installing new cabinets.
As soon as you become aware of mold, be sure to call 911 Restoration immediately. Prompt responses will get you to the Fresh Start you need quickly.
Mold Expert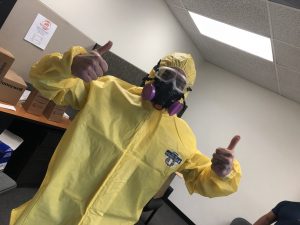 As your mold expert, we know that sometimes the mold can spread and take over in quick and dramatic fashion. While it's true that a little bit of water can cause mold to grow, it's equally as true that large amounts of contaminated water causes mold to grow even quicker and more hazardous. Flooding occurs often within a property thanks to the many pipes running through the building. With floodwater, the water is often contaminated with dirt and debris. If a septic pipe is involved, then the water will contain raw waste.
This contamination will often result in the mold that forms being toxic mold. Unlike regular mold, toxic mold presents severe health concerns that include organ shutdown and even death in some cases. Between the contaminated water and toxic mold, we have no choice but to don hazmat gear and perform both standard and mold decontamination to not only kill the mold, but also to sanitize the affected area.
Only when the mold and water is neutralized can we extract the excess water and proceed with mold removal. Being a mold expert also means we can assist owners with the insurance claims process where applicable so that you get the relief you need during a trying time.
Call 911 Restoration of Jackson if you need a mold inspection or full mold remediation. Don't wait to get the Fresh Start that has you breathing easier.
Servicing the cities of Benton, Bolton, Brandon, Brookhaven, Byram, Camden, Canton, Clinton, Crystal Springs, Edwards, Flora, Florence, Flowood, Gallman, Georgetown, Hazlehurst, Jackson, Learned, Madison, Pearl, Pelahatchie, Piney Woods, Pocahontas, Puckett, Raymond, Richland, Ridgeland, Sandhill, Sharon, Star, Terry, Utica, Vicksburg, Wesson, Whitfield, Yazoo City, Youngton, and surrounding areas.