Mold Removal in Sandhill
The humid subtropical climate in Sandhill makes mold a common nuisance for property owners. Precipitation is high throughout the year, creating a moisture-rich environment for mold spores to thrive. 911 Restoration of Central Mississippi has years of experience conducting mold remediation under these conditions. We will handle every aspect of the mold intrusion, including providing water damage cleanup and structural repairs. You can trust us to conduct thorough mold removal in both residential and commercial properties.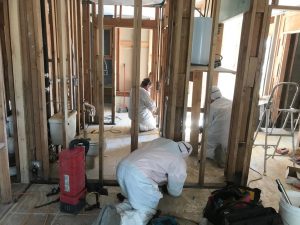 We employ technicians who are IICRC certified by the Institute of Inspection, Cleaning, and Restoration, an organization that sets the highest standards in the industry.
Not only do we work with highly qualified professionals, but the entire restoration company is licensed, bonded, and insured for your complete protection.
It is vital that you feel confident in our ability to get you out of any situation involving mold and water damage. The first thing we will do is provide the property owner with a free mold inspection to assess the full extent of the damage.
Not only will our repair techs conduct the mold cleanup, but we will implement structural drying and dehumidifying techniques to aid in the prevention of future infestations.
911 Restoration of Central Mississippi always has your best interests in mind. So, call the team you can trust when you need expert mold remediation. We will show you that a Fresh Start is possible today!
Exposure to Mold Spores Can Pose Significant Health Risks
If you can see or smell mold in your home or business, then a health risk may be present. Spores are not safe to handle on your own and require professional mold cleanup to eradicate properly.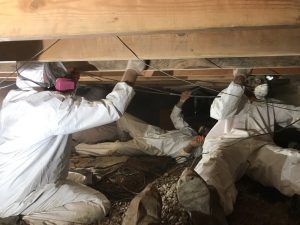 Mold looks like clusters of discoloration that are often pink, green, brown, or black. It is important to remember that although the mold in your property may appear black, it might not be the dangerous black mold Stachybotrys chartarum.
Stachybotrys chartarum is not the only indoor fungi that can influence your health. If you experience allergy symptoms or respiratory issues when you are inside your home or business, then you probably have an infestation.
Testing is the only way to find out whether or not the mold growing in your property is hazardous. For this reason, 911 Restoration of Central Mississippi facilitates professional mold sampling and testing.
During the mold remediation, our technicians will collect the samples and send them to a third-party laboratory. Once the toxicity levels are determined, we can take the appropriate mold removal steps.
Whatever the situation, you can be confident in our ability to provide full-service mold cleanup services. We will administer a thorough mold decontamination effort that will leave your property safe and clean.
Call 911 Restoration of Central Mississippi if you begin experiencing allergy symptoms while inside your home or business. You can expect to receive expert mold removal from a team that cares and understands what you need.
Mold Prevention Tips From the Pros
Mold is all around us, both indoors and outdoors. It's impossible to get away from it. Most properties provide the sustenance and environment that spores need to grow.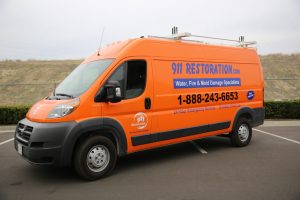 In as little as 24 hours, minimal moisture can spark a full-blown infestation. The speed at which mold grows makes it essential to be prepared for an invasion all year round.
911 Restoration of Central Mississippi has seen the most severe mold cases over the years. Our mold remediation professionals want to provide you with ways to prevent the same from happening to you.
Sandhill experiences humidity levels that contribute to mold growth quickly. It is essential to keep your property as dry as possible if you want to stop spores from growing. Air conditioners and dehumidifiers will help control indoor moisture.
Proper ventilation will also keep the moisture out of your property. Make sure the exhaust fans in the kitchen and bathroom are working and the clothes dryer vents outside.
Get all plumbing and roof leaks repaired as quickly as possible. Flood damage should be cleaned up and dried out thoroughly upon discovery. If carpet and upholstery have been soaked through, replace the times within two days.
These steps are critical in keeping your home or business protected against mold and mildew. However, even if you are vigilant with your maintenance, you may still need professional mold cleanup in Sandhill.
If you find yourself dealing with mold or water damage, call 911 Restoration of Central Mississippi right away. Our technicians will provide you with the mold remediation you need to make a full recovery.
Servicing the cities of Benton, Bolton, Brandon, Brookhaven, Byram, Camden, Canton, Clinton, Crystal Springs, Edwards, Flora, Flowood, Florence, Gallman, Georgetown, Hazlehurst, Jackson, Learned, Sandhill, Madison, Pearl, Pelahatchie, Piney Woods, Pocahontas, Puckett, Raymond, Richland, Ridgeland, Sharon, Star, Terry, Utica, Vicksburg, Yazoo City, Youngton, Wesson, Whitfield, and the surrounding areas.