Mold Removal in Jackson
Living in Jackson, property owners are familiar with the natural causes that can bring on a water damage emergency. Whether it's heavy winds or rain, these disasters can easily cause flooding on the property. In the aftermath of a water damage emergency, the best thing that you can do is to remain calm and to call upon the water removal specialists in the Terry area. Call us at 601-501-6119 and allow us to provide a free visual inspection.
Unfortunately, as quickly as up to 24 hours after a water emergency, mold can sprout on the property. The best thing that you can do in these instances is to call upon mold removal techs with years of experience. 911 Restoration of Jackson is IICRC certified with all kinds of mold decontamination. The techs believe in both a Fresh Start for you and your property. For the best mold cleanup technicians in the Sharon area, call 911 Restoration of Jackson today.
How To Prevent Mold From Spreading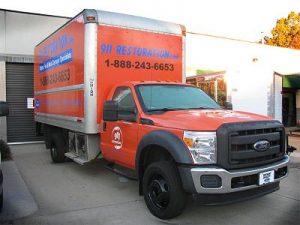 Mold can sometimes seemingly come out of nowhere, whether it is after heavy rains or a burst pipe on the property. There are a few techniques that can be employed to stop mold in its tracks before it spreads. One of them is to conduct regular inspections on the property from a plumber. They can make sure everything is in working order and prevent burst pipes from happening. Another way to prevent burst pipes is to keep the plumbing lines clear of any cotton swabs. This will prevent any blockage and future mold to remove.
Sometimes mold in unavoidable. If you start to notice spores on your property in Canton, call the specialists immediately. If you see mold in the bathroom or the ceiling, it could also be in hidden spaces not visible to the naked eye. Mold frequently thrives in cool, damp spaces such as crawl spaces or behind the walls. It's important to call the specialists for a cleanup immediately.
There is no need to delay when waiting for a mold decontamination, as the cleanup technicians are available around the clock. All calls are responded to within 45 minutes, as the technicians are aware of the importance of a speedy cleanup process. Both you and your property will receive a Fresh Start in no time.
Make sure to look out for mold warning signs, such as dampness in the air. This can save you from a future remediation after a flooded bathroom or if the air conditioning is leaking through the ceiling. The most important thing to do during a decontamination is to remain calm, and leave it to the specialists. Call 911 Restoration of Jackson for the best mold inspection services in the Pearl area today. Call us at 601-501-6119 and see how we can help.
Mold Removal Specialists in The Jackson Area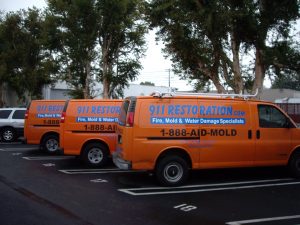 If you are noticing black and white dots in the ceiling, or "popcorn ceiling", don't delay. The best thing that you can do is call upon trained remediation specialists. Attempting to do the cleanup on your own could only further damage the property. It's best to leave it to the IICRC techs with years of experience on their hands.
If anything on your property, such as books, start to become damp it's best to take care of the remediation immediately. The technicians care for your health and put you first in all instances. They want you to remove any excess mold as soon as you start to experience difficult symptoms, such as coughing or sneezing. These can only worsen if the mold continues to grow, so it's best to take care of the deconomination in a prompt manner.
In some instances, third-party laboratory testing is used to get the most accurate read possible. Infrared technology and hazmat suits are also used during the inspection process. No matter what your property goes through, the techs have your back.
You can count on the techs to go above and beyond during the decontamination process to ensure that your emotional needs are taken care of. They operate with an optimistic mentality, so you can feel confident that your property is being taken care of in their hands. From top to bottom, your property will be treated to a Fresh Start after the cleanup.
When it comes to mold removal, you want professionals that you can trust. When a burst pipe or leak occurs on the property in Bolton, take the time to call techs that care about your emotional needs. 911 Restoration of Jackson can handle any mold inspection with care. Call the Jackson technicians for your own Fresh Start today at 601-501-6119.
Servicing the areas of Benton, Bolton, Brandon, Brookhaven, Byram, Camden, Canton, Clinton, Crystal Springs, Edwards, Flora, Florence, Flowood, Gallman, Georgetown, Hazlehurst, Jackson, Learned, Madison, Pearl, Pelahatchie, Piney Woods, Pocahontas, Puckett, Raymond, Richland, Ridgeland, Sandhill, Sharon, Star, Terry, Utica, Vicksburg, Yazoo City, Youngton, Wesson, Whitfield and surrounding areas.