Water Damage Restoration in Crystal Springs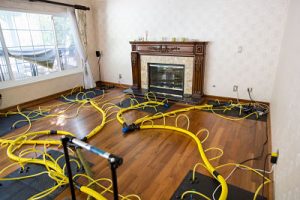 Water damage can affect property owners in Crystal Springs at any time. It doesn't matter if it's the middle of the night or a holiday, vigilance and attention are needed to mitigate the impact of water damage. Whether it's a leaky appliance hose or a pipe burst, nothing less than full water damage restoration is needed to get back to good as new. At 911 Restoration, our IICRC certified technicians are ready to roll 24/7/365 to perform any water damage restoration or mold remediation needed for our Crystal Springs residents. We guarantee to arrive within 45 minutes of your call as part of our Fresh Start mindset.
Water makes a perfect breeding environment for mold to grow and thrive. This is because it only takes a little bit of it existing for as little as 24 hours to start producing mold. The mold will only keep growing and spreading past its origin point the longer water is allowed to remain. That's why prompt and responsive water damage restoration is needed to avoid also needing mold remediation services.
If you suspect mold or notice water damage, don't hesitate to call 911 Restoration. We'll be there within 45 minutes whether you're in Crystal Springs, Whitfield, or another city in Jackson county. You can count on us for your Fresh Start.
Water Damage Help
When water damage occurs, the first thing that becomes obvious is that help is needed. It also needs to be the right kind of help. Incomplete water damage restorations only result in recurring problems every few months. At 911 Restoration, we have combined our years of experience with training and an IICRC certification to develop and provide a streamlined and perfected water damage restoration that is guaranteed to provide superior results. Part of our success comes from our first step, which is a visual inspection.
Our visual inspection helps us to figure out how bad the water damage is, and if mold has already begun growing. Once the inspection is done, we can formulate an action plan that we go over with you for your approval. After approval, it's time for us to get to work. The next step is to unload our water extraction equipment and commercial dryers so we can completely dry out the property. We ensure complete dryness by following up on our original inspection with infrared cameras to ensure not a single wet spot was missed. During the drying process, we perform any needed mold remediation services to get the property back to good as new.
Our approach isn't done until we also perform any needed repairs. Besides repairing the source of the water damage, we also fix anything broken like the sheetrock or flooring so that life can go on as if the water damage never occurred.
Call 911 Restoration as soon as you suspect mold or notice any water damage. We'll be there soon to deliver a Fresh Start that has you breathing easier.
Cost of Flood Damage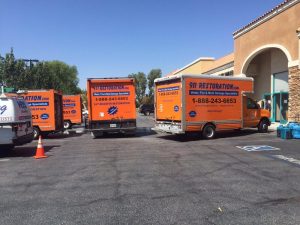 Flooding is when water damage occurs in large amounts of water. This usually happens due to the sprinkler system or a pipe burst. Because most pipes are located in the basement, a flooded basement is a too common occurrence for property owners. If the excess water wasn't bad enough, there are often contaminants present ranging from dirt to raw waste. These contaminants present health hazards and require an additional step in the flood cleanup process.
Contaminated water often produces mold faster than non-contaminated water. Plus, the amount of bacteria present ensures that both standard and mold decontamination is needed to get the property to be safe and habitable again. Industrial strength cleaners and detergents are needed to accomplish this task. Once decontamination is complete, the water extraction and drying process can begin. After completing that stage, we can get to the needed repairs to restore the property back to its previous condition.
The additional steps and the guaranteed need for repairs make flood cleanup a rather expensive endeavor. We offer financing and competitive pricing to assist our Crystal Springs residents. In addition, with flooding, you can most likely rely on your insurance policy to help you out. Our technicians are qualified and trained to assist with the insurance claims process for our customers who need guidance.
Contact 911 Restoration for all of your emergency restoration needs. Don't wait to get the Fresh Start you deserve.
Servicing the cities of Benton, Bolton, Brandon, Brookhaven, Byram, Camden, Canton, Clinton, Crystal Springs, Edwards, Flora, Florence, Flowood, Gallman, Georgetown, Hazlehurst, Jackson, Learned, Madison, Pearl, Pelahatchie, Piney Woods, Pocahontas, Puckett, Raymond, Richland, Ridgeland, Sandhill, Sharon, Star, Terry, Utica, Vicksburg, Wesson, Whitfield, Yazoo City, Youngton, and surrounding areas.