Water Damage Restoration in Florence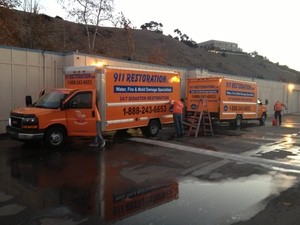 As a property owner in Florence, you know that property damage is the most annoying and costly thing that can happen to your property. While it can take many forms, none are as common or devastating as water damage. It can be a small leak that occurs for a long period of time or it can be instant like with a pipe burst. Regardless of how it happens, the only action available is water damage restoration. IICRC certified technicians at 911 Restoration are ready 24/7/365 to handle any water damage restoration or mold remediation needed by the residents of Florence. No matter where you reside in Jackson county, we guarantee to arrive within 45 minutes ready to get to work.
Once 24 hours has passed, any water present will begin to produce mold. The longer mold has to grow, the further away from the point of origin it spreads. For this reason alone, water damage restoration needs to happen quickly. The quicker it occurs, the less likely you are to need mold removal services in addition to water damage restoration.
If you suspect mold or notice water damage, don't wait to take action. Call 911 Restoration immediately. We'll arrive within 45 minutes to deliver a Fresh Start you can depend on.
Water Damage Restoration Company
As your water damage restoration company, we offer the best in customer service and actual results. Our IICRC certified technicians walk you through every step of our perfected water damage restoration process. Our training and experience has allowed us to hone our process to streamlined effectiveness that is unmatched. Our Florence customers receive the benefits of a thorough approach that begins with our visual inspection. The visual inspection shows us how bad the water damage is and if any mold is already present upon arrival.
Working off our action plan, we proceed with our water extraction and drying process. We only use the latest commercial grade equipment to accomplish this step. Our goal is a completely bone dry property. Anything less is unacceptable, which is why verify against ourselves with infrared cameras. These cameras pick up any wet spots that managed to escape our eyes during the inspection. While drying out the property, we also utilize any mold remediation methods needed such as mold decontamination to ensure the property gets back to good as new.
We don't consider the job done until repairs are made. Not only do we repair the source of the water damage, but we also perform repairs on what damaged by the water. Everything from putting in new sheetrock to floor installation is included in our comprehensive emergency restoration process.
Don't hesitate to call 911 Restoration if you notice water damage or suspect mold. We do it all from the simple mold inspection to full water damage restoration for our Florence residents. Get the Fresh Start you need to move forward.
Flood Cleanup Companies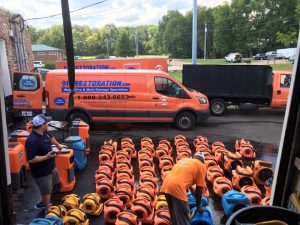 When water damage occurs in large amounts, it becomes flooding. When flooding occurs, only flood cleanup will suffice to get the property back to normal. While a flooded basement is the most common example, any room that has pipes running through it can be at risk for a pipe burst. As your flood cleanup company, we know that additional steps are needed to get the job done correctly. That's why our IICRC certified technicians are trained and prepared to handle all forms of water damage including flood cleanup.
Floodwater is contaminated water. Depending on the pipe that bursts, the water will contain debris and dirt or it will contain raw waste. That's why decontamination is a necessary step during the flood cleanup process. Since mold develops faster in contaminated water, it is possible that mold decontamination will be needed if the flood cleanup isn't started quickly enough. The faster the drying begins, the less chance there is of needing mold remediation services.
We take flooding and all of its aspects seriously. That's why our technicians aren't just trained in restoration but also in the insurance claims process. If you need assistance with your claim, our technicians are ready to guide you and if desired file a claim on your behalf.
Call 911 Restoration if you need mold remediation or flood cleanup services. No matter where you reside in Jackson county, you can count on a Fresh Start to arrive within 45 minutes.
Servicing the cities of Benton, Bolton, Brandon, Brookhaven, Byram, Camden, Canton, Clinton, Crystal Springs, Edwards, Flora, Florence, Flowood, Gallman, Georgetown, Hazlehurst, Jackson, Learned, Madison, Pearl, Pelahatchie, Piney Woods, Pocahontas, Puckett, Raymond, Richland, Ridgeland, Sandhill, Sharon, Star, Terry, Utica, Vicksburg, Wesson, Whitfield, Yazoo City, Youngton, and surrounding areas.