Water Damage Restoration in Flowood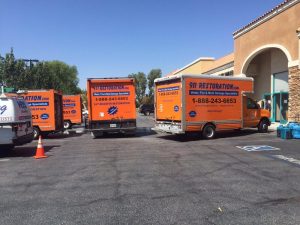 Property owners in Flowood will find themselves familiar with water damage and the troubles it brings. Anything from a leaky appliance hose or ceiling leak to sprinkler malfunction or pipe burst can cause water damage and lead to extensive damage to the property structure. Since water damage can occur at any time, our IICRC certified technicians are ready to respond 24/7/365 to start working on your water damage restoration as well as any needed mold remediation upon arrival. Whether you reside in Flowood, Florence, or any other city in Jackson county, we guarantee to arrive within 45 minutes of your call ready to get to work.
Once 24 hours has passed, the water left standing starts to produce mold. Once started, the mold growth spreads out far from its point of origin as long as you let the area stay damp. This can be prevented with prompt and comprehensive water damage restoration efforts from trained IICRC certified technicians like the ones at 911 Restoration.
As soon as you suspect mold or notice water damage, don't hesitate to pick up the phone and call 911 Restoration. We'll arrive within 45 minutes ready to deliver a water damage restoration that brings a Fresh Start you can count on.
Water Damage Restoration Company
As your water damage restoration company, we strive to put forth the best customer service with superior results. We accomplish this mission by taking our years of experience and training and combining them to develop and execute our perfected water damage restoration process. Upon arrival, we begin with a visual inspection to determine the extent of the water damage and if any mold is present. We walk you through our proposed action plan and make ourselves available for any questions you may have throughout the whole process.
Once you sign off on our action plan, we get to work on water extraction and drying out the property. For us, nothing less than the latest water extraction equipment and commercial dryers will get the job done. We expect nothing less than your property being dry as a bone. For darker areas, we use infrared cameras to detect wet spots otherwise missed, but it is more of a formality with our approach. In addition to water extraction, we also perform any needed mold removal should mold be found during the visual inspection.
After we verify the property is dry and all traces of mold has been removed, it's time for the final part of our restoration process. We take the time to perform any needed repairs to get the property back to good as new for our Flowood customers. Everything from repairing the source of the leak to putting up new sheetrock is just a part of our comprehensive emergency restoration approach so you can move on from such a devastating event.
If you need mold removal or water damage restoration, pick up that phone immediately and call 911 Restoration of Central Mississippi. We'll be there in 45 minutes whether you live in Sandhill, Flowood, or another city in Jackson county to deliver the Fresh Start you need.
Cost of Flood Damage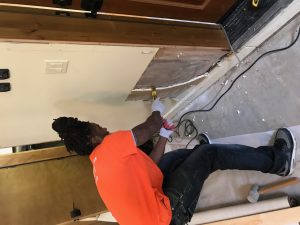 The worst type of water damage is when flooding occurs. Flood damage not only damages the property structure even further, but it also costs property owners a lot more than one would think. One of the most common examples of flooding is a flooded basement. With all of the pipes present, a pipe burst is imminent without due care and attention. Should a pipe burst, then not only do you need to get the basement dry but also need to get the pipe burst contained and then fixed.
There is also a secondary problem that occurs with flood damage. Contaminants exist in the water, and additional decontamination steps are necessary before flood cleanup can get underway. In order to safely extract the excess water, we need to sanitize the area by using industrial strength cleaners and detergents. Failure to do this in a timely manner can lead to mold infestation meaning that mold decontamination and mold remediation will become necessary.
With everything adding up to make such an impact, the cost is sure to rise. Fortunately, there are two ways you can mitigate the financial impact without sacrificing the quality you need during flood cleanup. The first option is to pick a restoration company that provides a one-stop comprehensive service that includes both water damage restoration and mold remediation services. The other option is to make sure that your insurance claim gets filed. At 911 Restoration, we cover every aspect of your restoration including assisting you with your insurance claim. Call 911 Restoration today for the Fresh Start you need to move forward.
Servicing the cities of Benton, Bolton, Brandon, Brookhaven, Byram, Camden, Canton, Clinton, Crystal Springs, Edwards, Flora, Florence, Flowood, Gallman, Georgetown, Hazlehurst, Jackson, Learned, Madison, Pearl, Pelahatchie, Piney Woods, Pocahontas, Puckett, Raymond, Richland, Ridgeland, Sandhill, Sharon, Star, Terry, Utica, Vicksburg, Wesson, Whitfield, Yazoo City, Youngton, and surrounding areas.