Water Damage in Madison
Discovering a home water leak or flood damage in your property can be overwhelming. It can especially be a shock if the disaster happens to be the middle of the night or after you've just gotten back from a trip. Whether it sneaks up on you or not, you need to address the water damage immediately. 911 Restoration of Central Mississippi is ready at any time of the day or night to administer water damage restoration services. As a commitment to the Madison community, the flood cleanup experts are available 24/7/365. Technicians guarantee to get to your property within 45 minutes of receiving your call. They are prepared to administer same-day, leak, and flood repair services as soon as they arrive on the scene.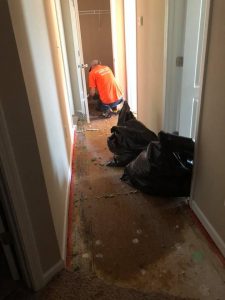 The water cleanup experts will repair pipe burst emergencies, complete water extractions, and implement drying and dehumidifying procedures. By ensuring there is no moisture left behind, we can prevent future issues, such as mold.
911 Restoration of Central Mississippi works with technicians who are IICRC certified to implement water damage restoration in Madison for both residential and commercial properties.
By having such a diverse set of qualifications, customers can feel confident in our ability to deliver water damage cleanup to whatever type of property you own.
On top of our decades of experience helping home and business owners, our restoration company is licensed, bonded, and insured. This status ensures that we protect our customers in full on every job.
911 Restoration of Central Mississippi is a locally owned and operated water mitigation company. Having this local knowledge allows customers in Madison to trust us to provide them with water damage restoration services specific to their needs.
Call our water extraction experts when you need immediate assistance after a leak or flood has occurred. The technicians will give you the peace of mind you need to get through any water disaster.
Preventing Mold From Water Damage After A Leak Or A Flood
When you prolong receiving water damage repairs, you run the risk of experiencing mold and mildew. The moment you need water mitigation services, you should reach out to our repair techs. Fast action on your part allows technicians to immediately fix the water leak in your ceiling or begin cleaning flood damage.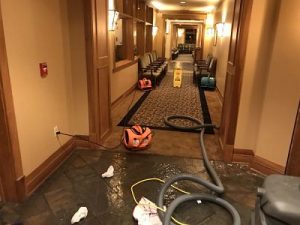 Once the technicians arrive, they will start the process off by providing property owners with a free visual inspection and estimate. During the surveillance, they will check for both water and mold damage, since both issues usually go hand-in-hand.
Once the inspection is complete, the experts will begin the water extraction process. With the help of powerful wet-vac machines and sump pumps, the repair techs will remove the moisture with air movers and dehumidifiers to prevent the ability for mold to grow.
The pros work efficiently, ensuring every area of your property has been inspected and fixed. They will use infrared technology to search for moisture spots in hard to see areas, such as behind walls and underneath floorboards.
The thermal imaging can pinpoint wet areas that the naked eye can't see. These areas happen to be the parts of the property that are most prone to becoming overgrown with mold.
You can rest assured that we will restore your home or business in Madison after it feels the impact of a flood, leak, or even toilet overflow. For long-term, water damage solutions, call 911 Restoration of Central Mississippi today!
Emergency Pipe Burst Repairs And Flood Cleanup Services
Pipe bursts are frequent in both residential and commercial properties, especially during the winter when pipes typically become frozen.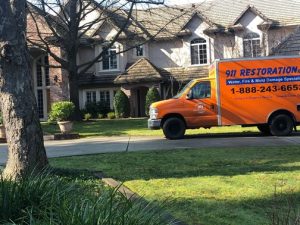 When a pipe bursts in Madison, it can cause hundreds of gallons of water to flood your property. This invasive water can create damage severe enough to warrant the need for professional flood cleanup services.
The technicians at 911 Restoration of Central Mississippi are ready to spring into action the moment you need them. They always arrive prepared to administer same-day water damage restoration procedures.
The office agents will even walk you through some things you can take to reduce the flood damage. These steps may include turning off the main water valve to your property and removing valuable items from the flooded room.
Repair techs will test and evaluate the structure of your property to ensure its safety for you and your family. They will also look for the cause of the broken pipe and make any necessary repairs.
If the flooding is significant enough to require the removal of your furniture and other belongings from the premises, the technicians will administer emergency pack-out and storage services.
Call 911 Restoration of Central Illinois to receive water damage restoration from a team that cares and understands your needs. We will show you how water damage can be a Fresh Start!
Servicing the cities of Benton, Bolton, Brandon, Brookhaven, Byram, Camden, Canton, Clinton, Crystal Springs, Edwards, Flora, Florence, Flowood, Gallman, Georgetown, Hazlehurst, Jackson, Learned, Madison, Pearl, Pelahatchie, Piney Woods, Pocahontas, Puckett, Raymond, Richland, Ridgeland, Sandhill, Sharon, Star, Terry, Utica, Vicksburg, Yazoo City, Youngton, Wesson, Whitfield, and the surrounding areas.