Water Damage Restoration in Richland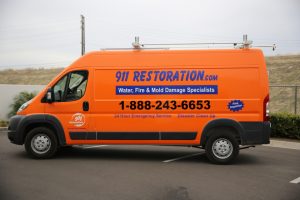 As a property owner in Richland, you know that water damage can strike at any time day or night. Anything from an unattended bathtub to an unexpected pipe burst can result in an immediate need for professional water damage restoration services. At 911 Restoration, our IICRC certified technicians are ready to respond with water damage restoration and mold remediation services for our Richland residents. As part of our Fresh Start approach, we guarantee to arrive within 45 minutes no matter if you reside in Richland, Edwards, or another city in Jackson county.
Mold can begin growing in as little as 24 hours when standing water is present. It doesn't even take a large amount of water for this to occur. That's why the faster water damage restoration begins, the less likely you are to need mold decontamination or mold removal services when you make the call.
As soon as you suspect mold or notice signs of water damage, call 911 Restoration. We'll be there in 45 minutes ready to get to work on your water damage restoration. Don't wait to get the Fresh Start you deserve.
Water Damage Cleanup
Water damage cleanup can be performed by any company equipped to do so. However, successful and thorough water damage restoration can only occur with IICRC certified technicians who combine training and years of experience to deliver a perfected water damage restoration process. At 911 Restoration of Jackson, we start with our visual inspection before even thinking about unloading the equipment. This inspection informs us if mold is already present and how extensive the water damage is. Plus, it gives us a chance to determine if there any structural concerns present.
Once we can create an action plan, it's time to get to work. We use the latest water extraction equipment and commercial dryers to get the property completely dried out during this step. We go a step further by using infrared cameras to pick up any wet spots that would be unnoticed by the naked eye. During this step, we also perform any needed mold remediation services to get the property back to good as new.
After the property is completely dry, we are able to get to work on the repairs. We offer what is considered comprehensive service by repairing the source of the water damage as well as other sections of the property damaged by the water. Everything from putting in new sheetrock to reinstalling cabinets is provided by our technicians. For those who need assistance, we are also qualified to provide guidance during the insurance claims process so you get the relief you need when you need it.
Whether you need mold removal or water damage restoration, the first step for you is to call 911 Restoration. Our technicians will arrive within 45 minutes ready to help our Richland customers get the Fresh Start they need.
Flood Restoration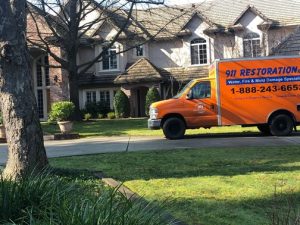 Water damage can easily turn into flood damage. When this occurs, the only solution is flood restoration which is also known as flood cleanup. The most common occurrence of flooding is a flooded basement. Basements contain numerous pipes throughout the room and at any time a pipe burst can occur. With floodwater, contaminants are present in the water. The contaminants lead to two different types of contaminated water. Gray water contains dirt and debris. Black water contains raw waste and only occurs with a compromised septic pipe. Regardless of the type of contaminated water, additional steps are needed for successful flood cleanup.
That additional step is decontamination. The water and surrounding area need to be sanitized in order to remove any bacteria present and to keep residents safe. We take your health seriously and only use the strongest commercial-grade detergents and cleaners to sanitize the area. Once complete, we move quickly into the water extraction and drying process. The faster we get to this step, the less likely you are to need mold decontamination services. Mold grows quicker in contaminated water than it does in normal water.
In cases where mold or raw waste is present, we will often perform a second decontamination to ensure complete sanitization of the property itself. After getting the property dried out, we proceed to complete any repairs needed to get the property back to good as new just like with our standard water damage restoration.
Call 911 Restoration if you need mold remediation or water damage restoration services. Get the Fresh Start you can count on.
Servicing the cities of Benton, Bolton, Brandon, Brookhaven, Byram, Camden, Canton, Clinton, Crystal Springs, Edwards, Flora, Florence, Flowood, Gallman, Georgetown, Hazlehurst, Jackson, Learned, Madison, Pearl, Pelahatchie, Piney Woods, Pocahontas, Puckett, Raymond, Richland, Ridgeland, Sandhill, Sharon, Star, Terry, Utica, Vicksburg, Wesson, Whitfield, Yazoo City, Youngton, and surrounding areas.