Water Damage in Ridgeland
There is no reason you should ever have to figure out the various intricacies of a pipe burst scenario or navigate a local area flooding situation on your own. The technicians at 911 Restoration of Central Mississippi are experts in administering water damage restoration in Ridgeland for any disaster that may be impacting your property and your life. When it comes to providing the highest level of leak repair and flood cleanup, the technicians know that time is of the essence. To best serve the Ridgeland community, 911 Restoration of Central Mississippi is open 24/7/365. Technicians will get to the scene within 45 minutes to begin the water extraction and drying processes. Speedy water repair services will minimize your losses and help prevent mold growth.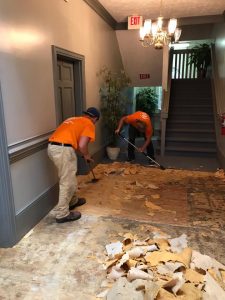 Our water mitigation company is licensed, insured, and bonded to ensure we protect every customer in full. We work with IICRC certified repair techs who have achieved the highest certification in the restoration Industry.
Along with providing fast and thorough water damage restoration, technicians also bring decades of experience to every job. Repair techs know the particular issues that affect properties in Ridgeland and will execute a strategy specifically made for your situation.
Our way of administering leak and flood cleanup helps to keep the damages minimal, and the service costs low. By keeping the cost to mitigate water intrusions low, we hope to make it possible for everyone in Ridgeland to receive our water cleanup services.
If your home or business is amid a pipe burst situation, water heater malfunction, or any other kind of flooding incident, don't wait another minute to contact 911 Restoration Central Mississippi.
Call the team you can trust to understand what you want and need out of a water damage restoration company today!
Water Damage Prevention Advice From A Restoration Company That Cares
When it comes to administering water extraction and drying services, there is no restoration company more skilled for the job than 911 Restoration of Central Mississippi.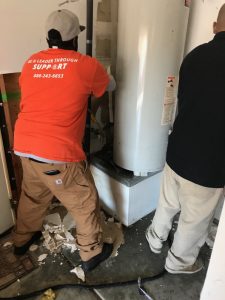 Even though our focus is to provide expert leak and flood cleanup in Ridgeland, the technicians' priority is to ensure the safety of the customer. The best way to keep you safe is through prevention.
When technicians are called to administer water damage restoration, they will also offer advice on how to prevent such incidents from occurring in the future.
Keep your trees trimmed to avoid any dead branches falling into your home when you least expect it. Loose debris can cut through the roofing layers and introduce water damage to the interior.
Check the hoses, fittings, and connectors on your water-based appliances to ensure that they don't show any wear and tear. This deterioration can be a sign of a rupture in the future. Replacing these them is cheaper and easier than replacing a water damaged room.
Be vigilant about inspecting your pipes for rust and cracks, as these can be a sign of corrosion and lead to a future pipe burst. Replacing the broken pipes will stop flooding issues.
Have a restoration expert take a look at your plumbing system and inspect your whole property once every few years. These inspections will ensure that small issues won't evolve into more significant water damage scenarios later on down the road.
Of course, even the most consistent property owners can still encounter water damage at one time or another. So, if you find yourself in need of leak or flood repair services, call 911 Restoration of Central Mississippi today!
Home Flooding Issues Can Actually Bring About A Fresh Start
When 911 Restoration takes on a project, their technicians bring the most advanced water extraction gear and latest drying technology to the job.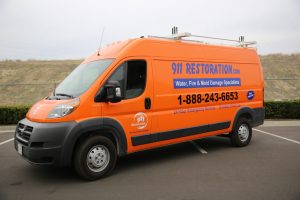 This equipment allows us to provide the customer with the best possible experience during such otherwise overwhelming circumstances.
Customer service is the key to a successful restoration job. Our experienced team will approach every situation with professionalism unmatched by the other disaster cleanup company.
Technicians want you to feel relief as soon as they arrive. By administering water and flood cleanup services with meticulous attention to detail, repair techs will not only save your property but your peace of mind.
Our staff will help you with every aspect of the restoration job. We will answer all your questions, whether it be regarding the cost of drying out a house after pipe bursts or your insurance policy.
911 Restoration of Central Mississippi works with all insurance companies. If you need help filing your claim, a staff member will provide you with a free insurance consultation.
We will help you determine the coverage that you are entitled to receive from your insurance provider. Customers can also be sure that we consistently provide affordable water mitigation. So, if you have any questions about insurance, restoration work, or anything else involved in the repair process, call 911 Restoration of Central Mississippi today!
Servicing the cities of Benton, Bolton, Brandon, Brookhaven, Byram, Camden, Canton, Clinton, Crystal Springs, Edwards, Flora, Florence, Flowood, Gallman, Georgetown, Hazlehurst, Jackson, Learned, Madison, Pearl, Pelahatchie, Piney Woods, Pocahontas, Puckett, Raymond, Richland, Ridgeland, Sandhill, Sharon, Star, Terry, Utica, Vicksburg, Yazoo City, Youngton, Wesson, Whitfield, and the surrounding areas.