Water Damage Restoration in Yazoo City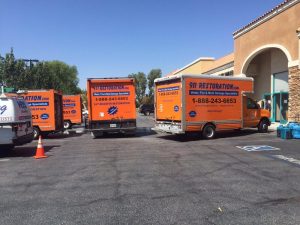 As a property owner in Yazoo City, you know that property damage can strike at any time. While it may come in many forms, the most common example is water damage. Everything from a leaky appliance hose to a pipe burst can be cause for water damage restoration services. Since it can happen at any hour, our IICRC certified technicians are ready to roll 24/7/365 to begin working on your water damage restoration and mold remediation that may be necessary. Whether you live in Yazoo City, Madison, or another city in Jackson County you can on us to arrive within 45 minutes of receiving your call.
Water left unattended for as little as 24 hours can begin producing mold. The worst part is that it doesn't take much water for this to occur. Before you realize it, you may find yourself needing mold removal in addition to water damage restoration. The faster you can get professional water damage restoration to start, the less likely you are to need mold removal services as well.
Everything from mold inspection to full water damage restoration is covered by the technicians at 911 Restoration. Call today for the Fresh Start you need to get back to good as new.
Water Damage Cleanup
Successful water damage cleanup requires a comprehensive and coordinated effort by trained professionals. At 911 Restoration, we have taken our years of experience and training and developed a streamlined and perfected water damage restoration process that delivers superior results for our residents in Yazoo City. A large part of our success is owed to our visual inspection. We perform the inspection before unpacking any equipment. Through this visual inspection, we can determine the extent of the water damage and if any mold has already developed since the water damage was discovered.
Once the inspection is complete, we can proceed with our water extraction and drying process. We accomplish this step with the latest commercial grade water extraction equipment and dryers. Our objective is to dry the property out completely. In the case of dark areas of the property, we use infrared cameras to pick up any wet spots the eyes just can't see. In addition to our drying process, we also perform any needed mold decontamination or mold removal upon discovery of mold.
After the property is dried out, we begin working on any necessary repairs. Whether you need new walls or your cabinets reinstalled, we have it taken care of as part of our emergency restoration process. In addition, we provide assistance with the insurance claims process for property owners who need the guidance.
Call 911 Restoration as soon as you're aware of any water damage. Don't hesitate to get back to normal and receive the Fresh Start you deserve.
Flood Restoration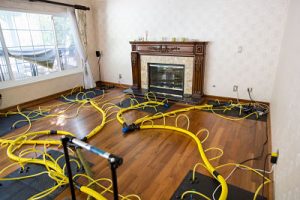 With water damage, flooding is a common concern. Sprinkler systems and pipe bursts are the most common culprits of cases where flooding is present. Since most pipes are located in the basement, a flooded basement is actually the most common occurrence for property owners facing water damage. In the event of flooding, nothing less than the professional flood cleanup services will suffice to get the property back to good as new.
Flood cleanup requires an additional step called decontamination. This is because, with flood water, the water is contaminated with dirt, debris, and possibly raw waste if a septic pipe is compromised. With contaminated water, we don't protective hazmat gear and use industrial-strength cleaners and detergents to completely sanitize the affected area on the premises. If done quickly and correctly, this will lower your chances of needing mold decontamination and mold remediation services as well. Mold grows even quicker with contaminated water than it does with normal water.
Once the area has been sanitized, we can proceed with our water extraction and drying process just like we do with our standard water damage restoration equipment. Again, the goal is to get the property completely dry to minimize structural damage, but also to prevent mold from making an appearance a couple of months later. In some cases such as with raw waste being present, we may provide a second decontamination to ensure the health and well-being of our Yazoo City customers.
No matter where you are in Jackson county, you can count on water damage restoration and mold removal services in 45 minutes. Get the Fresh Start you need to be good as new.
Servicing the cities of Benton, Bolton, Brandon, Brookhaven, Byram, Camden, Canton, Clinton, Crystal Springs, Edwards, Flora, Florence, Flowood, Gallman, Georgetown, Hazlehurst, Jackson, Learned, Madison, Pearl, Pelahatchie, Piney Woods, Pocahontas, Puckett, Raymond, Richland, Ridgeland, Sandhill, Sharon, Star, Terry, Utica, Vicksburg, Wesson, Whitfield, Yazoo City, Youngton, and surrounding areas.